High wheel bicycle enthusiasts gathered in Prague on Saturday (5/11) to compete in the traditional "Prague Mile" race in front of hundreds of spectators.
The event, which is organised by the Czech high wheel bicycle club, takes place every year.
Dressed in historical clothing, the enthusiasts braved the cold to attend their final gathering of the year.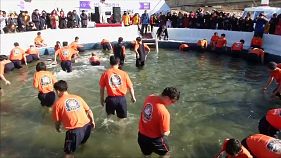 Locals and tourists braved below freezing temperatures to take part in South Korea's Sancheoneo ice fishing festival on Saturday (January 14).