High wheel bicycle enthusiasts gathered in Prague on Saturday (5/11) to compete in the traditional "Prague Mile" race in front of hundreds of spectators.
The event, which is organised by the Czech high wheel bicycle club, takes place every year.
Dressed in historical clothing, the enthusiasts braved the cold to attend their final gathering of the year.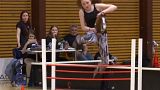 Hobby horse enthusiasts from all over Finland gathered in Vantaa on Saturday for annual championships.