The extent of the damage was starting to emerge on Thursday after two earthquakes struck central Italy, the same region hit by a deadly quake in August.
The first tremor struck at 7:10 p.m. (local time, 1710 GMT) on Wednesday and carried a magnitude of 5.4 on the Richter scale.
But the second one a little more than two hours later was eight times stronger at 6.1, according to the US Geological Survey.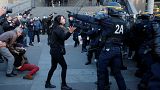 Tensions were running high on Paris' Bastille Square on Sunday night (April 23), at the end of a protest called by left wing militants.