Women in Poland hold more protests against tighter abortion laws
Comments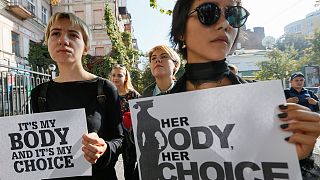 Polish women dressed in black took to the streets on Sunday in another round of protests against the government's attempts to tighten abortion laws.
A large group gathered outside the parliament building in Warsaw, chanting "We have had enough!", as similar demonstrations happened in cities and towns across the country.
The street protests were expected to continue on Monday, when some women also plan to boycott their jobs.
The new protests are in response to an amended proposal that would fall short of a total ban, but outlaw abortions in cases where foetuses are unviable or badly damaged.
Women in Poland planning more protests against right-wing govt's draconian anti-#abortion law: https://t.co/jOjyDYmnZE

— kathykattenburg (@kathykattenburg) October 23, 2016