The pontiff made a 10-hour visit aimed at encouraging the country's multi-faith society but at the same time overlooking recent criticism of a referendum that extends the president's term and powers.
Azerbaijan, the second-largest Shiite Muslim nation after Iran, has a tiny Catholic population – fewer than 300 Azeris are Catholics.
Francis met with representatives of all the main faiths as well as President Heydar Aliyev before heading back to Rome.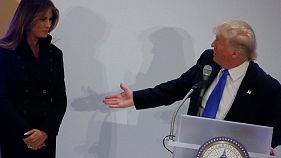 Trump called his wife to speak at the luncheon honouring his supporters on the eve of his swearing in as the 45th U.