Low milk prices plague French dairy industry
Comments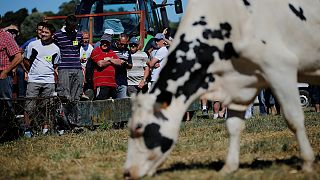 French food giant Lactalis said it would renegotiate milk prices with French farmers after 400 of them protested outside the company's headquarters in Laval this week.
European milk farmers have been struggling with a slump in prices fuelled by the ending of European Union quotas last year, a Russian import ban on Western food products and weak Chinese dairy imports.
When the quota ended some EU states such as Ireland were happy to boost production to meet global demand but others, such as France and Germany, were not.
French Farmers' unions are now demanding that the food giants pay more for milk than current market prices, to keep farmers in business.
Unions say the price of 257 euros per 1,000 litres of milk currently paid by the family-owned group to French producers is well below their costs and between 10 and 30 euros below the price paid by competitors such as Danone, Sodiaal and Bel.
But food companies insist they face strong competition within the European Union where prices have fallen more steeply in the past year than in France.
In June, raw milk prices paid to producers stood at 27.70 euros per 100 kilograms in France, compared to 23.22 euros/100 kg in top producer Germany, 25.12 euros/100 kg in the UK and 25.00 euros/100 kg in the Netherlands, European Commission data showed.
Agriculture Minister Stephane Le Foll on Monday called for a dialogue on milk prices, adding that the government was ready to mediate to help resolve the situation.
Le Foll said he would put forward "in the coming days" a wider plan on the implementation of EU measures to limit milk output, which would also tackle price crises in the livestock and grain sectors.
The European Commission, the EU executive, said in July it would grant an additional 500 million euros ($567 million) to struggling farmers, includ ing subsidies to reduce milk output.
It also granted a package of 500 million euros in September last year, targeting mainly cash-flow difficulties and market stabilisation.