Russia signs on to 48-hour Aleppo ceasefire for aid deliveries
Comments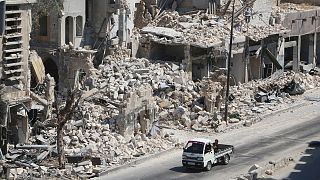 Russia has said it will support a 48-hour ceasefire in the besieged Syrian city of Aleppo and is ready to start the first "humanitarian pause" next week.
The United Nations – which has long called for such a temporary truce – welcomed the possibility of aid getting in soon, but stressed all sides have to respect it.
UN Special Envoy Staffan de Mistura's office said: "Our plan is to collectively work out the operational details, and be ready for delivery as soon as possible."
Russian warplanes flying from airbases in Russia and Iran, continue to bomb opponents of Syria's President Bashar al-Assad, some of whom are supported by Arab and Western powers.
Western diplomats also cautiously welcomed Russia signing on to a longer cease fire but raised questions about Moscow's motives and said the United Nations must be in charge of a sustained aid operation.
The Syrian opposition has said it wants to see a credible pause in the bloodshed and improved humanitarian aid access to Aleppo before peace talks can resume.
Aleppo has become a focus of fighting in the five-year-old civil war. Up to two million people there lack clean water after infrastructure was damaged in bombing.