Video of bloodied Syrian boy captures horror of Aleppo
Comments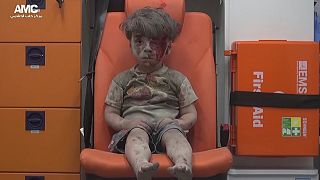 A video of a boy sitting dazed and bloodied in the back of an ambulance after surviving an airstrike in Aleppo has highlighted the desperation of the Syrian civil war and the struggle for control of the city.
The child is reported to be five-year-old Omran Daqneesh, one of five children injured late on Wednesday by aerial bombing on the city.
The video shows him covered head to toe with dust and so disoriented that he seems barely aware of an open wound on his forehead. Sources on the ground said his condition is now stable.
The video was filmed and circulated by the Aleppo Media Centre.