Italian mafia boss captured in mountain village
Comments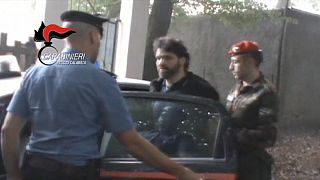 Italy's second biggest mafia boss has been arrested in Molochia, a small town in the Aspromonte mountains of Calabria.
The Calabrian mafia is based on fear.

Chief Prosecutor of the Calabria region
Ernesto Fazzalari, the head of Ndrangheta, the Calabrian mafia, is accused of murder, mafia activities, possessing a firearm and handling stolen goods.
Ndrangheta carries out many acts of intimidation against local officials and their families.
In the past 40 years 132 officials and 10 spouses of officials have been murdered by the Calabrian mafia.
Fazzalari was one of Europe's most wanted fugitives and had been on the run since 1996.
"The force of the Calabrian Mafia is based on fear and connivance. Having spent 20-years on the run clearly shows he was hiding in a favourable environment," Federico Cafiero de Raho, the chief prosecutor of the Calabria region said.
Meanwhile the hunt goes on for Italy's most wanted mobster, the head of Sicily's mafia, Matteo Messina Denaro.