EU releases Greek bailout funds as Juncker praises Athens' reforms
Comments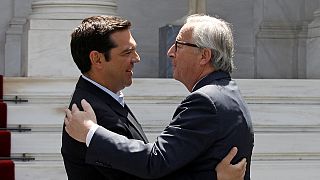 Greece has received more than seven billion euros in bailout funds after a review of the country's progress in implementing reforms.
It comes amid the European Commission president's visit to Athens – almost a year after a massive standoff which saw emergency funding ended and Greek voters reject EU bailout terms.
"The visit of the president of the European commission to Greece coincided with the release of a 7.5 billion euros bailout tranche. But in spite of praise for the progress made on structural reforms Mr Juncker's presence in Athens also served as a reminder that the effort to put the country's ailing economy back on track should not by any means slow down," Euronews correspondent Stamatis Giannisis reported from Athens.
Most of the new bailout money will be used to pay debts to the International Monetary Fund and European Central Bank, with the rest going towards paying off state arrears.
Greece's largest creditor the European Stability Mechanism will now continue to loan Athens money under favourable conditions.
Jean-Claude Juncker – who met the Prime Minister Alexis Tsipras – said the country had taken an important step towards getting through the crisis.
He cited reforms to pensions, the tax system, and the launch of a large privatisation programme.
"I came to bring a message of hope, at least that is what I believe, that Greece has overcome a significant hurdle and can now go down the right road. All the way along this path everybody at the European Commission will alongside Greece," the Commission president told reporters.
Tsipras once led the anti-austerity protests himself. Now his Syriza-led coalition government is the target of the people's fury – for bowing to the demands of international lenders in exchange for bailout funds.
Last week thousands demonstrated against the latest measures which include pension reforms and tax rises.
.JunckerEU</a> in <a href="https://twitter.com/hashtag/Greece?src=hash">#Greece</a>: "I like things that go together: Greece and <a href="https://twitter.com/hashtag/Europe?src=hash">#Europe</a>." <a href="https://t.co/0Ak9XKVwbv">pic.twitter.com/0Ak9XKVwbv</a></p>&mdash; Mina Andreeva (Mina_Andreeva) June 21, 2016