Greece seeks to clear migrants from Piraeus port as tourist season nears
Comments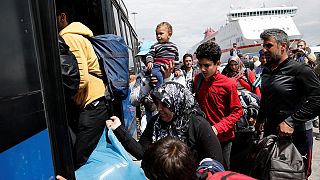 As the summer season approaches, Greece is stepping up efforts to evacuate migrants from its biggest port of Piraeus, the main gateway to the Aegean holiday islands.
Buses have been laid on to take those sleeping rough to organised reception centres. Some are making the move. Many others prefer to stay put, afraid of a holding centre resembling a jail.
Tens of thousands of migrants are stranded in Greece amid border closures in the Balkans.
Given this, an EU deal to deport illegal migrants to Turkey and warmer weather, a surge in migration through Italy is now expected. Hence Austria's preliminary construction work in the Alpine Brenner Pass for what some believe will be a fence.
Austria raises 'migrant fence' on Italian border https://t.co/qCDoICi7ov#FortressEurope#refugeeswelcomepic.twitter.com/SDcImkfrNN

— The Local Austria (@TheLocalAustria) 12 avril 2016
The diplomatic fallout from Sunday's clashes on the closed Greek-Macedonian frontier is intensifying.
Medical charity Médecins sans Frontières said hundreds of people were hurt after Macedonian police fired tear gas and rubber bullets at migrants trying to force their way through.
We have treated hundreds after Greek-FYROM border violence #Idomenihttps://t.co/1MaKDdMHNPpic.twitter.com/cDsN5YWZHk

— MSF International (@MSF) 10 avril 2016
Greece also accused Macedonian police of using excessive force, with Greek Prime Minister Alexis Tsipras denouncing "a big disgrace for European civilisation".
Macedonian authorities have hit back, saying it is down to Greece to ensure law and order is respected in the Idomeni migrant camp. A statement from the Macedonian foreign ministry said its security forces had shown "the greatest possible restraint".