Brussels Airport suicide bomber 'deported twice from Turkey' - reports
Comments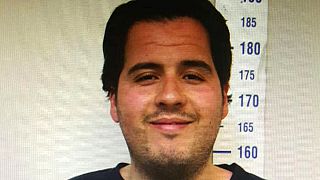 Ibrahim el-Bakraoui, who has been named as one of the Brussels airport suicide bombers, was deported twice from Turkey last year, local authorities have told Reuters news agency.
He was reportedly deported on July 14 and again on August 25.
Belgium's Justice and Interior Ministers have both attempted to resign in the wake of the Brussels attacks, but Prime Minister Charles Michel refused the requests.
July deportation
Turkish officials claim el-Bakraoui, a 29-year-old Belgian, was detained in the city of Gaziantep on suspicion of being a foreign fighter trying to enter Syria.
He and two Turkish nationals were arrested for using a similar route to foreign militants wishing to join ISIL and for allegedly being in contact with terror suspects. Both Turkish suspects are still being held, local media report.
#Brussels: the three airport suspects named. Follow our live blog for all the latest https://t.co/okZD1KWPlWpic.twitter.com/QVjuUR9XN7

— euronews (@euronews) March 23, 2016
President Recep Tayyip Erdogan said he was deported to the Netherlands at his request on July 14.
According to the president, both Dutch and Belgian officials were notified of the move.
As a citizen of an EU country who had not been convicted of a crime, he was given the choice of where to be deported within the 28-member bloc, an official added.
August deportation
A second Turkish official said el-Bakraoui re-entered Turkey a month later, on August 11, via Antalya airport on the Mediterranean coast.
He was reportedly deported to an unspecified location after two weeks (August 25, 2015).
Since 2011, Turkey has deported 3,290 people for ties to ISIL and banned 38,269 foreigners from 128 countries.
Belgian ministers' resignation attempts
Belgium's inner security cabinet met on Thursday (March 24) to discuss Erdogan's statement. Opposition politicians have demanded an explanation.
In the wake of the Brussels attacks, Belgium's Interior Minister Jan Jambon and Justice Minister, Koen Geens, have both had offers to resign rejected by Prime Minister Charles Michel.
Erdogan claims Belgium ignored Turkey's warnings about el-Bakraoui. Ghens denies he was known to Belgian authorities for terrorist acts.
Turkey said it alerted Belgium that Ibrahim el-Bakraoui was a "foreign terrorist fighter" https://t.co/NPkny25F1Zpic.twitter.com/tGEuMkpSId

— New York Times World (@nytimesworld) March 24, 2016
A spokesperson for the Dutch government said the matter was being looked into "meticulously." The Netherlands' Minister for Security and Justice, Ard van der Steur, is expected to give a letter to the Dutch parliament on Thursday, outlining all available details.