G20: divisions over debt and currency reform
Comments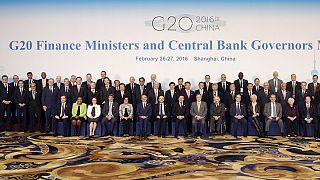 The G20 summit has got underway in China.
The gathering unites finance ministers and central bank bosses from the world's biggest economies.
The G20 meeting – 4 things to takeaway
Monetary policy alone cannot provide balanced growth
Economic risks, including the "Brexit" highlighted
No sign of agreement on coordinated stimulus
Policymakers divided over the role of debt and negative interest rates
"Myriad concerns and policy frictions"
Charm offensive: G20 Finance Ministers and Central Bank Governors meet in Shanghai, China https://t.co/e15V5SZdakpic.twitter.com/gICF184QAZ

—

AFP

news agency (@AFP) February 27, 2016
A draft of the communiqué to be issued at the end of the two-day meeting in Shanghai reflects myriad concerns and policy frictions exacerbated by economic uncertainty and market turbulence.
Geopolitics figures prominently.
Risk and vulnerability have increased amid rising numbers of refugees and migrants, downgraded prospects for global growth and widespread talk of a Brexit.
However, there is no sign of coordinated stimulus spending to spark activity, as some investors have been hoping in the wake of the market turmoil at the beginning of 2016.
Divisions over debt
G20 draft: Ultra-easy policy alone can't help https://t.co/JWpX0qELkPpic.twitter.com/jg0wgJ7LCi

— Top News (@topnewsfeedpage) February 27, 2016
Divisions emerge over the reliance on debt to drive growth
Germany has made it clear it is not keen on a fresh stimulus drive. Finance Minister Wolfgang Schaeuble says the debt-financed growth model has reached its limits.
Chinese whispers
What economic policies & reform agenda did #China clarify at G20 meeting? https://t.co/DX8gF2QqJbpic.twitter.com/nALBq9wajy

— China Xinhua News (@XHNews) February 27, 2016
China has sought to reassure global finance ministers about the state of its slowing economy.
Officials say the country is able to tackle the pressures it is currently facing.
Currency reform
Forex and renminbi in focus as G20 meets https://t.co/oje1nX5lhbpic.twitter.com/mxgGmJAyjy

— Financial Times (@FT) February 25, 2016
G20 host China rules out another devaluation of the yuan after the first last August.
Japan urges China to reform its currency and come up with a structural plan and timeframe.
US encourages China to shift to a market-orientated exchange rate in "an orderly way".
The G20 in 3
Based on GDP, the G20:
covers 86% of the world's economy
accounts for two-thirds of the world's population
accounts for 75% of global trade
What they are saying
"The global recovery continues, but it remains uneven and falls short of our ambition for strong, sustainable and balanced growth." – draft communiqué from summit.
"We are always in support of the European integration process and we are willing to see the EU play a bigger role internationally. We also hope Britain and the EU can appropriately handle the relevant issue." – Chinese Foreign Ministry Spokesman Hong Lei.
"It is even causing new problems, raising debt, causing bubbles and excessive risk taking, zombifying the economy,"_ – German Finance Minister Wolfgang Schaeuble says the debt-financed growth model has reached its limits.
"China must refrain from policies that would be destabilising and create an unfair advantage."- US Treasury Secretary Jack Lew encourages Beijing to shift to a more market-oriented exchange rate.