H1N1 Swine flu: a new pandemic on the way?
Comments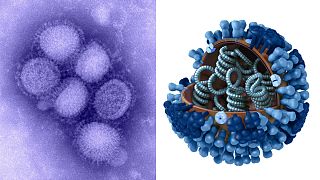 An outbreak of swine flu in eastern Europe is claiming lives and causing a stir in the media.
A major H1N1 outbreak sparked a World Health Organization pandemic alert in June 2009, after the virus emerged from Mexico and the United States.
The outbreak killed around 18,500 people in 214 countries. The alert was lifted in August 2010. Since then bird flu has become a pressing preoccupation, but swine flu has the potential to be a global killer. So should we be worried?
Armenia has reported 18 deaths, with neighbouring Georgia three, but both countries say the victims had complications and sought treatment far too late, and there is no question of an epidemic.
In Russia at least 17 people have died and hundreds have been hospitalised, and Ukraine says there have been 50 deaths there, with the flu virus especially rampant in the Russian-occupied east of the country.
Iran says the virus is also claiming lives there in the country's first ever large outbreak of the H1N1 strain. At least 112 people have died, concentrated in the south-east of the country.
The health authorities in India have embarked on a big public awareness campaign following a second death from the disease. Swine flu is of special concern in India, with its dense urban populations and poor sanitation.
Of course seasonal influenza occurs every year and the viruses change each year, and many people have some immunity to the circulating virus that helps limit infections. Some countries also use seasonal influenza vaccines to reduce illness and deaths.
By contrast, the H1N1 was a new virus when it emerged and most people had no or little immunity to it, giving it pandemic potential. One of the lessons from history is that influenza pandemics can kill millions, and there was no pandemic influenza vaccine at the outset.
Now H1N1 treatments have been developed but their effectiveness has been questioned, hence the media panic at any sign that it may be making a comeback. If you think you may be at risk, or want to know more about the disease, the World Health Organisation has prepared a factsheet.
A fuller, more informative description of swine flu can be found here.