German parliament gives green light to air missions in Syria
Comments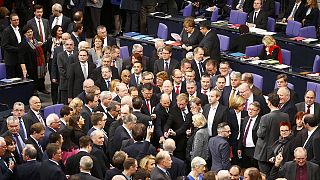 The German parliament has voted to support the coalition conducting airstrikes against ISIL in Syria.
Gaining support meant some serious shoulder-rubbing for Chancellor Angela Merkel on the floor of the Bundestag, but when the vote came it was a clear victory for her foreign policy, despite the raised voices of opposition.
"This mandate is dangerously vague, because it leaves many questions unanswered. Who exactly has supreme command? The French? The Americans? How do you treat Russia, who has de facto control of Syrian air space and fights on the side of Assad?" asked the Greens' Anton Hofreiter.
Germany has been very reticent to get anywhere the the front line in both Iraq and Syria, only suppling arms and training in both places to the Iraqi army and Kurdish Peshmerga.
In Syria German aviation will be used in a spotting role and will not fly bombing missions, but no further details are available about pilots' terms of engagement.