A national memorial service has been held in France to honour the 130 people who died as a result of the Paris attacks a fortnight ago.
President François Hollande spoke at the service, which was attended by survivors and victims' families.
A minute's silence was also observed and the names of those who died read out.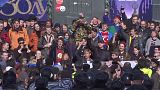 Thousands of people crowded into Moscow's Pushkin Square on Sunday for an unsanctioned protest against the Russian government.