Ashura attacks as Shi'ites are killed in Bangladesh and Pakistan
Comments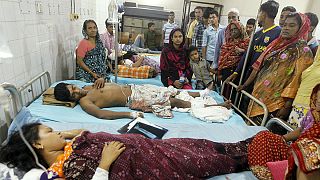 A twelve-year-old boy has been killed and more than 100 injured in a bomb attack in the Bangladesh capital Dhaka.

One killed and hundred injured in #Bangladesh before Shia #Ashura procession blast at Hosne Dalan old town in Dhaka! pic.twitter.com/JNLJQsg2Ih

— Free Speech (@kewshukhinoy) October 24, 2015
Authorities say home made bombs were thrown as thousands of minority Shi'ites celebrated the Day of Ashura.
The Dhaka attack comes hours after a suicide bomber killed dozens during Ashura celebrations in Sindh province in Pakistan.

Bomb blast at Ashura procession in Pakistan - https://t.co/du44KDXQUY - ... pic.twitter.com/EWcr8tiSv0

— Riyadh Vision (@RiyadhVision) October 24, 2015
No one group claimed responsibility, however Sunni militant group Lashkar-e-Jhangvi attacked Shi'ites on Thursday and threatened further violence against the minority.
#Ashura outstanding feature by Suvra kanti Das on the Shiite Muslim celebration #Bangladeshhttp://t.co/S2sjiEkk3Rpic.twitter.com/CgTFOmJ3fe

— UnFrame (@UNFRAMEphoto) November 6, 2014
Amid tightened security Shi'ites in the Iraqi city of Kerbala marked one of their holiest festivals in the traditional manner lashing themselves with chains to beat of a goatskin drum.