Migrants begin to arrive in Croatia in new route to the Schengen Zone
Comments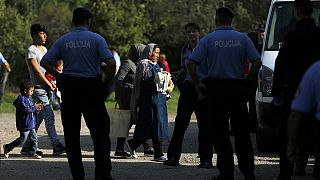 Some of the hundreds seeking an alternative route into the Schengen Zone have started to arrive in Croatia.
Once registered, many are likely to head to Slovenia. While both nations are European Union members, Slovenia is the gateway to Europe's border-less Zone.
In addition, Croatian Prime Minister Zoran Milanovic has said he will not stand in the way of passage through the country.
Zdravko Kelic, chief of Civilian Protecion office in Vukovar-Srijem County
Many arrive in Tovarnik, on the border with Serbia, where the local Civilian Protection Office is helping organise the arrivals.
"Together with the police we are cooperating with ambulances and the medical treatment for those in need, like women and children, is provided.- Besides that the Red Cross is providing them with food and water and other supplies they need," said local office chief, Zdravko Kelic.
Croatian reception centres are equipped to receive around 3,000 migrants, which is fewer than half the daily number of people making the journey across the Balkan route.
The UN Refugee Agency (UNHCR) says 7,000 Syrian refugees arrived in the Former Yugoslav Republic of Macedonia – the start of the Balkan Route – on Monday (September 14).
Some 30,000 more are on Greek islands, with the majority on Lesbos.