A day of restlessness: Greek workers protest Sunday opening hours
Comments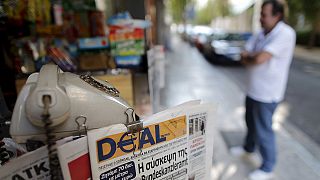 A Sunday well spent brings a week of content goes the old saying. But in Greece the difference is whether you're spending money or time with the family.
Dozens of retail workers have set up a picket line in Athens to protest against Sunday openings, one of the many measures included in the bailout programme.
"We want to show our employers that we are on strike and we will protect the picket line and we want to send a message that we will continue our struggle no matter which government is in power," explained Eleni Lalou, one of the protest organisers.
#NeverOnSunday Against work on Sunday #Athens#Greece#ergnews#antireport photos via dromografos</a> <a href="http://t.co/nZlyFd5Wiz">pic.twitter.com/nZlyFd5Wiz</a></p>&mdash; Τάσος Παπαδόπουλος (DOC_PROVOCATEUR) July 19, 2015
It is a sore point for Prime Minister Alexis Tsipras who pledged never to force the issue of Sunday openings, but not everyone agrees that opening up shops is bad deal.
"I believe that [Prime Minister Alexis] Tsipras in the only one who will be able to break the unions and he has to, for Greece. They don't let us go shopping like everybody else in the world – who do they think they are? Everybody works on Sundays. When I used to work, I worked everyday and even at nights."
The issue of Sunday shopping is actually a delicate one across Europe. Two of the largest economies in the EU; Germany and France, both limit Sunday openings throughout the year.