Greek PM stands firm in run-up to referendum
Comments
By
Euronews
with
Reuters, International New York Times.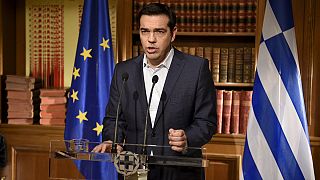 Greek Prime Minister Alexis Tsipras is maintaining a defiance stance urging voters to reject proposals made by creditors last week when they vote in Sunday's referendum.
He's convinced a "No" vote will strengthen Greece's hand in future negotiations.
He has already put forward new proposals to creditors tied to agreement on a request for a third bailout lasting two years amounting to 29.1 billion euros.
Earlier in a televised address he'd reassured the Greek public that despite bank closures their salaries and pensions would not be lost.
However the country is divided with some seeing a no outcome to the referendum as a vote to leave the euro zone – something Tsipras categorically denies. Opinion polls anticipate a close result.
Greek referendum pic.twitter.com/75hzsQEErA

— Robert Went (@went1955) July 1, 2015
Meanwhile International Monetary Fund (IMF) chief Christine Lagarde has down played Greece missing its payment to the institution:
"There is a democratic process. There is a referendum. The people are going to give their views about what they hope for the future and so I don't want to interfere in that.
The IMF has 189 members, Greece is one of them. Greece continues to be one of them despite the fact that it has not paid its dues to the international community but it is a member. It will stay at the table.The IMF will continue to engage and try to help."
On Wednesday some banks opened to allow pensioners who don't use bank cards to make a one-of weekly withdrawal of 120 euros.
.
In a positive move the ECB has for now decided to keep emergency liquidity flowing to Greece's cash-strapped banks. However Moody's ratings agency has once again cut Greece's credit rating.