Fear grows over Greek banks as withdrawals accelerate
Comments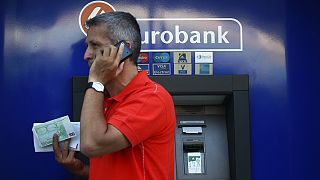 With the country's debt talks deadlocked, there is fear on the streets of Greece.
Of course we are taking our money out, it is insecurity and fear.
Euronews correspondent Symela Touchtidou has spent the day talking to Greek people in Athens.
"Anxiety began to build here after Thursday's Eurogroup failed to make any progress in negotiations," she says. "There have been queues outside banks and ATMs since early this morning."
With no deal in the horizon, people fear that the government will have to impose capital controls. They are going to the bank to withdraw their deposits.
One man Euronews spoke to withdrew 16 000 euros this morning. "They told me I could only have two thousand," he said. "When I came back again to get another two thousand, they told me I will have to come back on Monday to get the rest."
"Of course we are taking our money out, admitted another, "it's insecurity and fear. I have not taken everything out, I am withdrawing it bit by bit."
At least two billion euros have been withdrawn this week alone. Reuters news agency quotes sources who say ECB officials are unsure if Greece's banks will be able to open on Monday.
"Of course I am nervous, everyone is nervous, but what can you do?" asked another bank customer. "If you have 2,500 francs, where can you put that kind of money? What can you do, take it home and put it under the mattress?"