Peace activists cross the demilitarized zone that separates South and North Korea
Comments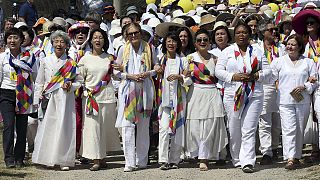 A group of 30 woman have crossed the demilitarized zone, which separates South and North Korea in a march for peace.
The activists made the gesture to express the hope that Korean families divided by war could some day be reconciled.
Janis Alton, one of the activists, made the following statement:
"We women from North and South Korea and around the world are walking to invite all concerned to begin a new chapter in Korean history. One marked by dialogue, reconciliation, mutual understanding and respect and peaceful co-prosperity."
The woman had planned to walk through the abandoned "truce village" of Panmunjom, where the 1953 armistice that ended the war was signed, but South Korea declined permission and the women were ferried across the DMZ by bus.
The peace protesters have come in for criticism for spending several days in Pyongyang while refusing to criticise the North Korean government over its human rights record.
The marchers denied this and said they were focused on highlighting the division and the suffering it brings.