Greek debt: who will pay if Greece fails?
Comments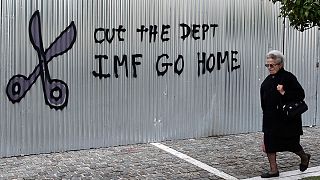 Financial doomsday for Greece, economic meltdown for Europe? It seems you can't click a mouse these days without headlines screaming debt at you. That's not your debt, or my debt but the billions owed by Greece. The Mediterranean sunshine country is now a hotspot of financial speculation.
Haven't we enough to do deal with protecting the euro in our own pockets? Well hark what British Chancellor, George Osborne told the new Greek Finance Minister Yanis Varoufakis. He said that the stand – off between Greece and the eurozone is fast becoming the biggest risk to the global economy.
Ooops – looks like we personally could be in the economic firing line!
Well maybe not just yet. The Greek debt which is around 324 billion euros is owned by a number of different institutions. It's difficult to grasp a concept of such a huge figure, a mortgage perhaps beyond comprehension. Who is in the deepest, well it's the eurozone.
You'll read the phrase "economic powerhouse," again and again when commentators refer to Germany. And it's German Chancellor Angela Merkel – sometimes called the eurozone's paymaster general, who has signed off the biggest loan to Greece. It's Germany which is most exposed to Greece's debt.
When you look at these sums perhaps it's understandable that everyone involved is more than nervous over the aspirations of the new Greek government and its intentions for its debt. Well, would you say to someone to whom you lent a few thousand euros just to forget it or let them take a few more years to pay it off?
And of course just like with any debt the clock is ticking.
You won't have a direct say as such in any potential negotiations over the debt. The cost however could hit your pocket. If you are in the Netherlands then that's where individuals will be hit hardest.
You can check out how much you may be out of pocket in the graph below. To emphasise the graph only shows how we will be affected if there is a total debt relief. Keep clicking on 'Greek debt' because in time we could all be affected!