Hungary's Orban warns economic migration endangers Europeans
Comments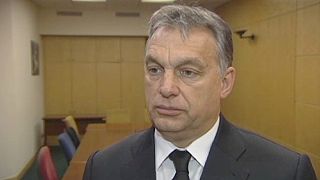 First he marched in Paris for free speech. Millions of French people and world leaders were supporting inter-cultural unity. Then Hungarian Prime Minister Viktor Orban went home to declare that immigration to Europe should be largely halted. He has called for migration curbs in the past. Now Orban says it is time for Brussels to get tough.
According to Orban: "Economic migration is a bad thing in Europe. We should not look at it as something useful, because it only means trouble and danger to the European people. Migration should be stopped. That's Hungary's opinion. We don't want to ingest a significant minority with a cultural nature and background that is different from ours. We would like to keep Hungary Hungarian."
The only exception, Orban said, should be for people claiming political asylum. And yet the prime minister conceded that minorities living in Hungary pose no particular problem. The country of some 10 million re-instated Orban's right-wing government for a second consecutive term at elections last year.
​Marta Pardavi, Co-Chair of the Hungarian Helsinki Committee​, told us: "Migrants with Hungarian origins who come from Romania and Serbia and so on, as well as those coming from countries far away are more active on the labour market than Hungarians. More of them have a job, so they pay more tax as well."
Pardavi offered recent data saying that while 49 percent of Hungarians had a job, the figure for non-EU nationals was just over 56 percent. As for ideas about law and order, in 2012 only one percent of crimes were committed by foreigners, and they were mostly tourists.
Immigrants we spoke to felt relaxed.
Teguo Notue Edmond Sylvio said: "I don't feel rejected by society, so there is no problem. I'm working here, I have good friends and colleagues. I don't really have any problem living here."
Orban himself a few years ago said Hungary's economy needed millions of immigrants.
European Parliament President Martin Schulz suggested that some people's worries about their countries' integrity are not to be solved in restricting legal migration:
"My appeal to all of us is not to answer with sanctions, not to answer with anger, let's answer with a rational approach. And the rational approach is not migration, it is more cooperation of the security organs, more police cooperation, more secret service cooperation, more juridical cooperation."
Orban's party, Fidesz, has lost one million supporters in the last few months, a portion of whom moved further right.
Our correspondent Andrea Hajagos summed up on the possible reasons behind the anti-foreigner rhetoric:
"Viktor Orban's statement surprised many because Hungary only gets a few economic migrants. In contrast, many people leave here to go to other countries for economic reasons. Analysts say his statement must be part of domestic policy, and that maybe this is a bid by Orban to stop his party's popularity from falling further."