Watch: Dirty protest as huge pile of manure dumped at France's National Assembly
Comments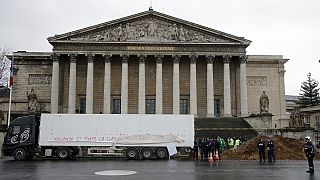 It's a fresh French take on a dirty protest – a truck today dumped a huge pile of manure outside a government building in Paris.
The lorry, which had the slogan "Hollande and the whole political class out", left the cargo outside France's National Assembly.
Its driver was reportedly arrested and taken to a police station in the seventh arrondissement of Paris.
News agency AFP reportedly received the following message, just as the manure was being left: "At this very moment … a French just expressed his anger at the national assembly Holland! enough! This is the message he wanted to convey and whose president will long remember."
Un camion déverse du fumier devant l'Assemblée nationale pic.twitter.com/s8RtCflVif

— Haziza Frédéric (@frhaz) January 16, 2014
Du fumier devant l'Assemblée Quai d'Orsay au nom de la 6ème République pic.twitter.com/mRfWqlgQBb

— Haziza Frédéric (@frhaz) January 16, 2014
Last November French farmers blocked roads around Paris in a protest over EU agriculutural reforms and rising taxes.
One particular issue is the eco-tax for HGVs, which aims to reduce the environmental impact of road freight transport.