An increasing number of hospitals around the world are offering fresh hope for sexually mutilated women and girls who want to attempt to 'repair' the damage caused to their genitalia. A surgical procedure created by a French urologist and surgeon, Doctor Pierre Foldès, has been offered to thousands of women. In France more than a dozen hospitals now provide services for sexually mutilated women, the costs of which are reimbursed by the state. But the care and treatment is not the same everywhere.
Euronews spoke to some of the staff at the Bicêtre Hospital in the Kremlin-Bicêtre district of Paris, where the preference is for a multidisciplinary approach. They say they want the emphasis to be more on the care, as opposed to just the surgery. The clinic for people affected by female genital mutilation is within the hospital's Gynaecology and Obstetrics Department (Professeur Hervé Fernandez). The team is made up of a surgeon (the gynaecologist and obstetrician Doctor Emmanuelle Antonetti-Ndiaye), a victimologist and ethnologist (Sokhna Fall) and a sexologist (Laura Beltran). Right On reporter Seamus Kearney spoke to Fall and Beltran.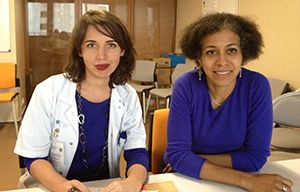 Sexologist Laura Beltran (left) and victimologist Sokhna Fall (right) in the clinic for sexually mutilated women at the Bicêtre Hospital, Paris.
Seamus Kearney: 'Is there much demand for this operation? What is your assessment?'
Sokhna Fall: 'There are quite a lot of requests, but at the same time we run a small clinic, which doesn't operate full time. There are about a hundred women every year who come to us regarding this question. But not all of those 100 require surgery. They have complaints about sexual mutilation, but they do not systematically request surgery. I think it is around 60% or more who ask for surgery, and we operate on approximately half of that 60%.'
Seamus Kearney: 'What kind of hope is this operation offering mutilated women? What feelings, what improvements can be expected with this procedure? '
Laura Beltran: 'Women come to us with a problem concerning sexual mutilation and this is sometimes in connection with their sexual relations. They say 'I'm in pain during sexual intercourse, it does not go well, I have no pleasure', for example. One of the aims of the care unit for mutilated women is to work on this issue so that women have a more fulfilling sex life. But it is not just the operation that will repair or enhance their sexuality. The operation is one aspect that can improve things, but it is not enough on its own. Women can have a painful sexual experience because they are with a partner or spouse they don't like, where there is sex with no foreplay, and/or no desire. The problem therefore isn't just because of the mutilation. The aim of the unit is to provide women with a support system that includes a gynaecologist, a psychologist and a sexologist. This is part of the multidisciplinary approach.'
Sokhna Fall: 'It must also be said that today there is no rigorous study that takes into account the sexological and orgasmic aspects, etc, when examining the effects of this operation. So the only studies that exist are completely subjective. This means that after the operation women were asked if they found that there was an improvement. But strictly in terms of the physiological and sexological aspects, there is no study.'
Seamus Kearney: 'What kind of operation are we talking about? Reconstructive? Plastic surgery?'
Sokhna Fall: 'In fact, that's very interesting. What is generally not known is that the clitoris is a very significant organ. It has a kind of horseshoe shape, with a section that is external, the visible part of the clitoris, a section around the vagina, and then a section that is beneath the pubis. At the time of sexual mutilation, the section that is cut is the outer one, the part that is visible. The surgical technique is to take the part that is hidden under the pubis and externalise it. So it's an operation where nothing is added; we do not take tissue from anywhere else. It is the anatomical position of the woman's clitoris that is shifted a little bit.'
Seamus Kearney: 'What is the feedback from the women who undergo the operation? '
Sokhna Fall: 'We have not carried out any systematic study. I know that Dr. Foldes has done a study, which is subjective: women were asked if they thought there was an improvement and I think about 70% said there had been an improvement. Our position is that we must still be very careful because we are talking about sexuality, and sexuality is not just a matter of organs. To say that the operation alone improves the sexuality of these women is a little bit hasty, because the image that these women have their body, and the ideas they have about their orgasmic capacity after the operation, for example, can also play a major role when it comes to their satisfaction.'
Laura Beltran: 'The improvements among the women treated by the team is partly due to the operation, but also thanks to the treatment carried out from a psychological point of view: the treating of the trauma and the sexological care that involves teaching women how to know their body, to seek pleasure, to be more active in their sexuality. It is all of this together that will improve a woman's sexuality. We believe that surgery alone will not change anything for some women in terms of their sexuality. There really has to be comprehensive support.'
Seamus Kearney: 'So the operation is not necessary for all victims of female mutilation?'
Sokhna Fall: 'That's right. Our policy is to look at all the difficulties that women experience in their sexuality, their sexual demands, but in fact not all of these are sexual. There are mutilated women who are completely fulfilled sexually and who come to us rather to say, 'I want to get back what they took from me' or 'I want my integrity,' but they don't have any sexual problem. So we need to be careful with that. But, for example, when a woman arrives with sexual problems, we will work with her to improve as best we can those sexual difficulties prior to the operation. And so it is true that there are women, on the other hand, whom we are not necessarily going to propose the operation. For example, something that is very common, is the case of a woman who has only known sex forced upon her in a forced mariage. These women come in saying 'I have no sexual pleasure, please operate on me'. But we tell them that even if we operate, for now, you do not know if you have any sexual problems. If you've only experienced forced sex, you do not know if you really have sexual problems'. So, for us, making these women believe that the operation will solve their problems is a bit of a lie. We prefer to first help them overcome the trauma that is due to a forced marriage, possibly so they can be led out of that marriage if they are still in it, and then we might propose an operation, if that is what they still want.'
Seamus Kearney: 'Do you think the operation could be improved in the future? '
Sohkna Fall: 'We have not heard any talk that it could be improved. The improvement that women might expect in the future is a technique to repair the labia minora. The most common form of genital mutilation in France is the Type 2 excision, which is the removal of the outer part of the clitoris and the labia minora. However, the current technique does not repair the labia minora. We, in our work, are learning every day how to improve, not the surgery, but the treatment of women. '
Seamus Kearney: "Can you imagine the operation becoming more common? '
Sokhna Fall: 'Our goal really is the abolition of sexual mutilation. We have mixed feelings about the operation becoming more common, because we know that sometimes women are operated on and there is no improvement, and sometimes there are side effects, consequences that are not satisfactory. So while we do not deny that the operation can help women, we are wary about the usefulness of an operation on its own. And we think that perhaps the greatest merit of this surgical innovation is the fact that it has allowed mutilated women to talk about it, and there is more reflection and perhaps more impetus in the fight against FGM. But the real solution is that sexual mutilation disappears. It's not necessarily the spread of surgical clinics.'
Laura Beltran: 'There is the idea that, for many women, the solution is not necessarily restorative surgery. There are many women for whom FGM is not something that will prevent them from having a sex life, where things go well: sexually mutilated women can have clitoral orgasms. Restorative surgery, and care units for mutilated women, will be useful for some women but perhaps not all. This is not necessarily something that will be systematic. The clinics for sexually mutilated women provide an opportunity to evaluate the needs of the women. Will they need a psychologist, a sexologist, a surgical operation? And for others, they will not need any of that.'
Sokhna Fall: 'This question about the pleasure that mutilated women can experience is very important. Once, in a speech that I was requested to make in front of activists, I explained how we worked, about what we've been able to understand. An African woman intervened to say that when the struggle against FGM began, with claims that women were deprived of sexual satisfaction, it somehow had a negative effect on the mobilisation against FGM among some African women. They still experienced pleasure, despite the mutilation they had experienced, and so it was difficult for them to identify with a campaign that did not represent their own experience: that they were not deprived of sexual pleasure. The argument was lost on them because they did not recognise their own cases among those being debated.'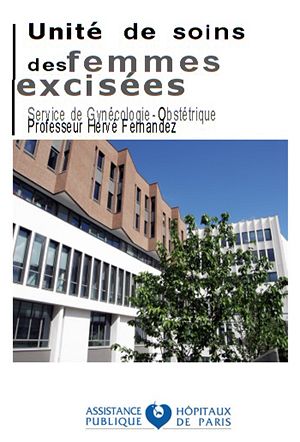 All views
Get a different perspective
Every story can be told in many ways: see the perspectives from Euronews journalists in our other language teams.