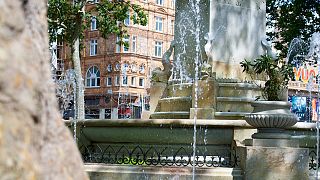 Grace Kelly or Marilyn Monroe's glamorous world is not as far as you would think: to end up on the movie screen of a vintage film, you just need to be a guest at Victory House, a new hotel on London's home of entertainment, Leicester Square.
Because of its prime location, overlooking the famous Odeon cinema which hosts many world film premieres, the hotel's designers decided to offer guests the opportunity to star in their own film, based on their experiences while visiting London.
Guests can also choose a room overlooking the red carpet when the film icons come to town, as well as enjoying other film-related features and memorabilia.
Vintage materials are a big part of the hotel's design, and on each floor, you have clips of British Pathe footage from the 1950s and 1960s, featuring some of the premieres of Leicester Square.
The hotel brought in experts to give the full film star experience, guests get a short tutorial on how to use the provided small 360 cameras in order to create their own vintage clip, as the footage ends up turned into a 1950s style newsreel by the hotel.
Leicester Square attracts 250,000 million visitors per day and hosts around 50 film premieres per year.