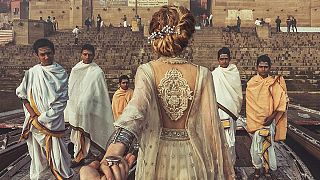 Their pictures of a beautiful girl, pulling her boyfriend by the hand, to different locations in exotic places, have won them international recognition. Since 2012, Murad and Nataly Osmann are showing the best the world has to offer through their social media and website Follow me to. It all started with a trip to Barcelona and developed into the phenomenon it is today. From Cuba to India, Moscow to Bali, Living it gets to know this special couple, followed by millions.
What is your best travel memory?
India. We have been there quite a lot but every time we discover a different side of the country. It is spiritual, genuine, and karmic. Generally, people travelling to India complain about dirt and garbage but that is not what one should pay attention to. India manages to keep a balance between sacral values and material assets. There, people believe in rebirth, purity of heart and soul, in destiny… A trip to India can become a source of endless cultural and spiritual inspiration. I feel the same with Cambodia, Myanmar and sunny Bali.
What is the ultimate luxury according to you?
Life is always giving you loans, hoping you will waste your minutes wisely. We should always look inside ourselves and make sure we are on the right path. So, time is our ultimate luxury.
What is the one place you haven't been yet and dream to go?
Australia. I imagine it as being a continent of kangaroos, koala and tropical ocean floors. It has been luring us for a long time now. But I also dream of going to Norway and its magnificent mountainous landscapes, and fjords.
More from Living It
Making the world's most celebrated loafers
Escaping the 'sportswearization' of luxury
Dress to impress, without the chemicals
What is the best human encounter you have ever had?
Once, we met a Tibetan monk who had run away from his country and settled in a favela in Brazil. In a dangerous place ruled by street laws and armed children walking around, he managed to find true freedom. It is ironic, isn't it? The world around us is so wonderful and multifaceted.
Pick one person you wish you could meet and talk to.
Leonardo DiCaprio, as it is always interesting to have a chat with a genius artist!
Can you recall a particularly emotional moment you lived during your travels?
Recently we've went to Cuba and it was an unforgettable experience. The island and its inhabitants are very authentic. Despite all political difficulties, they managed to keep their national identity and mindset. Popular songs, street dances and cultural traditions, you can feel it all! It seems as if the sun has melted into their blood and is running into their veins.
If you are a globe-trotter wishing to share some travel tips and incredible lifestyle experiences, simply follow Living it on social media and use our hashtag #livingitluxe under one of your picture to be featured.