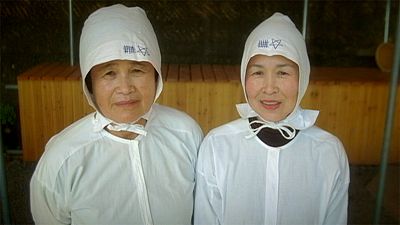 In this episode of Postcards we're on the Pacific coast in Central Japan, in the picturesque Ise-Shima region.
Key facts about Japan:
It is an island nation in East Asia
The population is more than 127m
Land area is just under 378,000 km2
The country's currency is the Yen
Main religions are Shinto & Buddhism
Euronews' Seamus Kearney reported: "There are many beautiful spots to see in this large site of natural beauty.
"But one of the major points of interest, which has become an iconic image for the region, are the traditional ama female divers."
This is home to about 800 of Japan's 2000 ama divers, who maintain the centuries-old tradition of free-diving to search for seafood.
It is said that some of the divers can hold their breath for up to two minutes at a time.
Visitors can spend time with the ama, most of whom are aged over 5O.
And after a dive there is time to warm up in a typical seaside hut and listen to the stories of the ocean.
"When I dive and find such a big abalone I feel like shouting for joy. It makes me so happy." said Nakamura Michico, the head of the ama divers in the town of Osatsu.