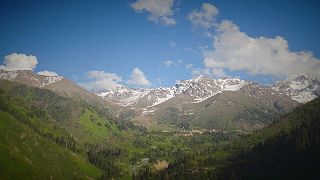 Our postcard this week comes from Almaty, the former capital of Kazakhstan.
Medeu and Shymbulak are just 20 minutes from Almaty City and the international airport
Key facts about the Small Almaty Valley resorts:
The Medeu ice rink is the highest in the world
125 world skating records have been made there
Shymbulak has a total of 16 slopes and 7 ski lifts
The resort's highest accessible point is at 3180m
The highest peak in the valley rises to 4400m
A nearby mountain valley provides breathtaking scenery, but it is also popular for year-round leisure activities.
The Medeu & Shymbulak mountain resorts attract locals but also holidaymakers.
Euronews' Seamus Kearney reported: "And getting around the valley is easy all year round. The cable cars that take people up to the slopes in winter also operate in the summer months."
As well as the Shymbulak ski resort, the valley is home to the world's highest ice rink at Medeu. It is popular with families but also attracts world champion skaters.
Saya Okas from the Shymbulak resort told euronews: "Medeu and Shymbulak are in the Small Almaty Valley, which is just 20 minutes from Almaty City and the international airport. This makes it very handy for locals and tourists."
"The Shymbulak resort is a really good place to ski, snowboard and have a good time in winter," she said. "And there's also hiking, powered parachute flights, buggy driving and climbing."
She added: "The Medeu ice rink is a very famous sporting venue, where more than 120 world records have been achieved. And it is situated at a height of 1600 metres, which makes it the highest ice rink in the world."
Outdoor concerts are also popular in the valley in summer.
Both of the resorts are connected by road and cable cars, and further development is planned in the future.