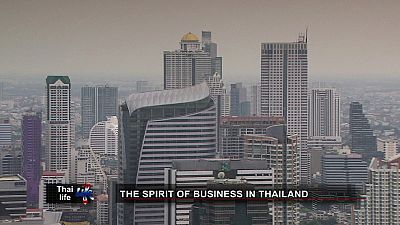 Thailand evokes images of endless, sandy beaches but there is a lot more to this South East Asian country. In the first edition of our four part series 'Thai Life', we take a look at the kingdom's business spirit. To find out why Thailand is such a popular investment market, euronews headed to its capital, Bangkok.
With a population of around 10 million, it can sometimes feel like all the city's inhabitants are on the streets at once. Bangkok is at the heart of the Thai economy with 90% of the country's export trade taking place in the capital. The Asian Kingdom is also becoming an evermore attractive production location for foreign businesses, which are attracted by its stable infrastructure and tax incentives.
Stiebel Eltron, a housing technology manufacturer is one of the 500 German companies to start up operations in Thailand.
It learned early on that doing business 'Thai style' requires a great deal of cultural awareness and tact; something the company's Export Manager, Holger Palla knows all too well:
"In Germany you can raise your voice (literally bang your fist on the table) and speak more openly and direct. Maybe even a little too loud and direct. In Thailand you can't do that at all. You have to be careful not to embarrass other people – they shouldn't lose face so you have to show respect and proceed more subtly."
Yupa Tassri, General Manager at Siebel Eltron takes care of the staff's needs, bridging any cultural divides:
"In Thai most people respect Buddha, so the Germans will never understand how we respect him.
"My main challenge is to mix and match between Thai and German mindsets, to make sure that they understand each other and work together in harmony."
Teamwork plays a vital role, ensuring the working day runs smoothly, as Roland Hoehn, Asian Pacific Director at Siebel Eltron explains:
"Thai's like to work in groups. They want to have Sanuuk once in a while. Sanuuk is probably best translated as fun and is simply a part of the Thai culture. If they aren't having fun, they leave the company. So harmony and fun are important."
For foreign companies, the benefits of working in Thailand, seem to outweigh concerns voiced by some businesses over bureaucracy and a lack of qualified labour.
John Svengren, the Executive Director of the European Asean Business Centre believes the key to doing business successfully in Thailand is taking the time to build bonds with colleagues:
"Relationships mean a lot more for one thing. You don't come to an Asian country and do business on the first day. You need to have relationships, particularly if you're in joint venture operations with Thai partnerships. It can take years to develop confidence and trust."
This is not only true for the industrial sector but also for tourism, another important area for foreign investors, especially European.
This year alone, more than 20 million visitors are expected, making up around 6% of the nation's total economy.
The tourism industry has been trying to attract new target groups and green tourism is becoming increasingly popular. At Karon beach in Phuket, a Swiss run hotel was the first on the island to receive the Green Globe certificate for sustainability.
The hotel's General Manager at the Mövenpick resort, Hansreudi Frutiger talks to euronews about his accomplishment:
"We began with the Green Globe one year ago. We wanted to explain to our Thai employees what this means to us; that we want to help the world stay as it was and is. We've a small garden where we grow tomatoes and cucumbers alongside various Thai herbs and spices which our chefs use in our kitchen's dishes."
Thailand is a country of contrast. While it is finding success putting itself on the world business map – tradition and heritage remain an integral part of life.