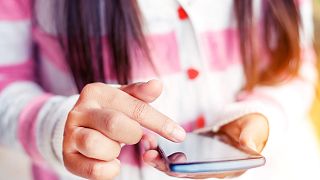 In an effort to appease the criticism it's been facing, the social media platform TikTok has introduced a new feature to curb the amount of time kids spend on the application.
The company has announced it will set a one-hour daily screen time limit for users under 18.
Cormac Keenan, TikTok's Head of Trust and Safety, said in a blog post on Wednesday that "if the 60-minute limit is reached, teens will be prompted to enter a passcode in order to continue watching, requiring them to make an active decision to extend that time".
For users under the age of 13, a parent or guardian will have to enter a passcode to allow 30 minutes of extra viewing time once the initial one-hour limit has passed.
TikTok has come under fire for its highly addictive algorithm. Child psychologists and activists even liken the platform to "crack cocaine" - and critics believe that TikTok isn't doing enough.
Teens see harmful content every 3 minutes on TikTok
Imran Ahmed, CEO of the Centre for Countering Digital Hate, believes not only Tiktok's algorithm is addictive, but also dangerous for teenagers. 
"This measure, while welcome, is a Band-Aid on a serious wound," he told Euronews.
"The serious wound being the psychology of our children, which is being affected by a platform that within two and a half minutes setting up a new account as a 13-year-old girl is sending self-harm content".
According to the Centre's latest report, test accounts imitating the behavior of 13-year-olds with eating disorders were served harmful content every 39 seconds. 
Taking into consideration that TikTok has amassed more than 150 million users across Europe, and that it is planning on opening two more data centers in the region, demand for scrutiny around the platform is rising.
China's TikTok is very different from the app in the West
TikTok is owned by the Chinese company ByteDance. The country has its own separate version of TikTok called Douyin which offers a very different experience than what is available in the West for children.
For example, it is restricted to 40 minutes of daily use for children under 14 and is inaccessible to them between 10.00 pm and 6.00 am.
For Ahmed, this should send a warning signal to legislators in the West. 
"It sends a message to us. China knows that it's exporting a dangerous platform. It knows that its algorithms can cause harm to children. It chooses to do so. And of course, we're the suckers because our politicians are doing anything to protect us," he said.
How to protect your children from online harm?
According to Dr Linda Papadopoulos, psychologist, and ambassador for Internet Matters, we need to recognise that younger generations have been born in the online world – and that parents feel like they're often playing catch-up.
Parents, she believes, need to "make a point of understanding" by meeting their children halfway – that is, getting to know the platforms themselves.
"Handing over a phone is like handing access to the whole world, right? You wouldn't let your child walk down the street without some sense of guidance. They need guidance here too," she added.
For more on this story, watch our report from The Cube in the media player above.