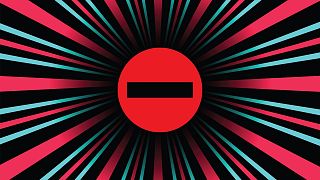 The social media app TikTok has become a dominant force, especially when influencing teenagers. But over these past few weeks, there have been growing concerns for many Western governments over the platform's Chinese ownership.
On Monday, Canada followed the European Union's three main institutions (the European Commission, Council, and Parliament) and the United States by banning TikTok from government devices. They cited an "unacceptable" level of risk to privacy and security. 
So, why is TikTok being banned and how serious is the threat?
Why TikTok is under fire?
TikTok is owned by the Chinese company ByteDance which has faced accusations that it collects users' data and hands it over to the Chinese government.
Some experts are worried that sensitive information could be exposed when the app is downloaded, especially on government devices.
In June 2022, BuzzFeed revealed leaked audio from internal meetings that showed China-based employees of ByteDance had "repeatedly" accessed non-public data from American users, including journalists.
In December, Forbes reported that TikTok had spied on several of its journalists who were covering ByteDance by comparing their location information with that of workers suspected of acting as confidential sources. The hacking - which had targeted the author of the original BuzzFeed report who went on to work at Forbes - yielded no concrete results. 
The company condemned the transgression and admitted personal data and IP addresses had been accessed by four ByteDance employees - two based in the US and two based in China - who were later fired after an internal investigation was conducted.
Other experts raise the issue of reciprocity. China has banned the majority of US-owned social media platforms, such as Facebook and Twitter. 
"One thing that never comes up in this discussion is reciprocity. We get China's biggest social media into our country, but China doesn't get our biggest social media into their country. What are they so worried about?" James Lewis, a technology and public policy analyst at the Center for Strategic and International Studies (CSIS), told Euronews. 
Like other specialists who are pro-banning TikTok, he believes that TikTok poses a real national security threat to the US and other countries due to the risk of Chinese surveillance.
What are the arguments against a TikTok ban on government devices?
The UK announced it will not follow Brussels and the US in banning TikTok on government devices. 
Michelle Donelan, the British Minister for Science, Innovation, and Technology, told Politico that it should be "a personal choice".
"We have no evidence to suggest that there is a necessity to ban people from using TikTok," she said. 
These statements are echoed by multiple cybersecurity and technology experts interviewed by Euronews.
"If the ban is about the concerns around data sharing, then I would say that government devices shouldn't either have WhatsApp or Facebook," explained Madeline Carr, a cybersecurity and politics professor at University College London (UCL). 
"We know very well that those platforms do collect and share our data. They're constantly being fined by their data protection agencies. So we know those are dangerous".
US-based companies such as Uber and Facebook also reportedly tracked the location of journalists reporting on their apps. And there was no international ban on these platforms. 
Other experts have argued the ban is a veiled attempt at undermining China.  
"Politicians in the United States are eager to show that they're standing up to China, which has been configured as the main geopolitical enemy," said Anupam Chander, an expert on global regulation of technology at Georgetown University. 
"It's rather haphazard and focused on one geopolitical rival, but not really a comprehensive national security strategy," he told Euronews. 
Can TikTok be banned for everyone, not just government officials?
The US Congress is currently debating whether TikTok should be banned for everyone in the US, not just government officials.
This has caused quite a bit of backlash. The American Civil Liberties Union (ACLU), for instance, tweeted: "A ban on TikTok would violate the First Amendment rights of millions of Americans".
But many experts following the case are skeptical that a widespread ban could actually be put in place, especially in the US. 
"There are limits on the authorities the US has to actually ban an app. It would be unconstitutional given the right to free speech," said CSIS' Lewis. 
Chander believes other measures can be taken to mitigate any surveillance risks. "I think transparency, auditing, and privacy obligations, as well national security testing should be put in place. I think bans are a step beyond what US law would tolerate".
How have TikTok and China responded?
The Chinese Foreign Ministry slammed these decisions on Tuesday, insisting Western governments have nothing to fear. 
"As the world's top superpower, how unsure of itself can the US be to fear a young people's favorite app to such a degree," said Mao Ning, the spokesperson for China's foreign ministry.
"The US has been overstretching the concept of national security and abusing state power to suppress other countries' companies. We firmly oppose those wrong actions".
Euronews reached out to TikTok for a comment. Their spokesperson replied via email, calling the bans "basic misinformation".
"We appreciate that some governments have wisely chosen not to implement such bans due to a lack of evidence that there is any such need, but it's disappointing to see that other government bodies and institutions are banning TikTok on employee devices with no deliberation or evidence," said the social media platform.
For more on this story, watch our report from The Cube in the media player above.