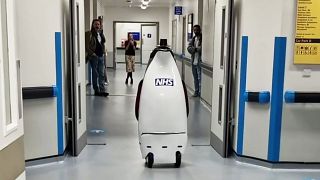 -
Copyright

Academy of Robotics
Amid historic strikes and a vacancy rate of almost 10 per cent in the country's healthcare sector, the UK's National Health Service (NHS) is looking into deploying helper robots at the country's hospitals to help ease the burden on staff.
According to Joe Harrison, Chief Executive of Milton Keynes University Hospital NHS Foundation Trust, pharmacy technicians and runners at his hospital make about 30,000 steps a day within the facility.
The hospital is now testing out a helper bot to delegate chores, such as medicine delivery.
The British firm behind the helper bot, the Academy of Robotics, says its self-driving tech was designed specifically for hospital uses.
Using LiDAR and sonar tech, the penguin-looking "Milton" is designed to deliver medicines on specific routes to assist staff.
The Academy of Robotics says operational trials for this feature will start this year. Feedback from the trial will be used to decide whether to scale up across the NHS and introduced to other hospitals around the country by 2023.
Saving time and costs
William Sachiti, the academy's founder and CEO, says robots like "Milton" will be able to help save time and cost for human staff running around the hospital.
"One of the biggest problems we don't know about is called 'To-Take-Out (TTO),' where you've been discharged and technically, you're just waiting on your medicine. And these hospitals can be very, very big. It's like a 15-minute walk sometimes just to go get the medicine, bring it back, 30 patients simultaneously," Sachiti told Euronews Next.
"It might make sense for super-intelligent robots to do the delivery run safely while the humans focus on the patients".
Short staffing in healthcare systems is a global issue and hospitals in other parts of the world are also looking into hiring robot assistants.
Across the Atlantic at Elmhurst Memorial Hospital in Chicago, the US, two 5-foot-tall robots have been running errands since June 2022.
Equipped with a digital screen on her chest and an ID badge to open doors implanted in her robotic arm, both robots are named "Moxi".
Hospital workers at the hospital say they can spend more time attending to patients thanks to these bots.
"A lot of times, I was the one kind of running around the hospital, picking everything up, and you put on a lot of miles working in a hospital, doing all that walking around," said Tom Angelos, patient care technician at Elmhurst.
The hospital says they are doing as much work as six human staff can.
According to statistics from the hospital, the two robots have been making about 1,800 deliveries each month, travelling nearly 1,600 km and saving hospital staff well over 2 million steps walking back and forth across the facility.
There are more hospitals across the country waiting to test out "Moxi," according to its developer, a Texas-based company, Diligent Robotics.
"If you've got a workforce shortage, one of the things that you can do is really think about making sure that the people that you do have are focused on what they need to be focused on. And so that's really what automation and our kind of solution are about," the company's CEO and co-founder Andrea Thomas said.
'Taking a load off of night staff'
In East Asia, Aeolus Robotics's "Aeo" has been easing the burden of nurses and runners at hospitals in Japan, Hong Kong, and Taiwan.
The robot can drive up to about 1 m/s and lift up to 4 kg with one of its robotic arms. With its newly-launched features, including an infrared camera, it can operate in full darkness.
The CEO of Aeolus Robotics, Dan Haddick believes this will allow "Aeo" to "take a lot of load off of night shift staff".
"It can go and check on residents. It can do deliveries overnight and just work all night in the dark. So the infrared camera is a new thing we're launching that really expands the capability quite a bit," Haddick said at CES 2023 in Las Vegas.
The robotics companies and the hospitals trialling them all agree that these robots are not to replace human staff.
"We're not relying on Moxi to interact with patients," said Diane Butts, Clinical manager of surgical oncology at Elmhurst Memorial.
"That's still our privilege and honour, so we get to spend more time with them".
"A hammer still needs a carpenter. Whilst these robots are autonomous, they still are there to be tools to help people do their jobs. So, for us, we strongly believe the best machines should be there when needed and out of the way when not," said Sachiti.
For more on this story, watch the video in the media player above.