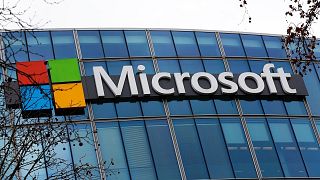 -
ChatGPT has taken the world by storm, with the currently free-to-use artificial writing software being harnessed for a wide range of tasks. 
Now Microsoft, which is backing OpenAI, the company behind ChatGPT, says it is widening access to the software in one of its products. 
Microsoft's Azure OpenAI Service was rolled out in 2021, allowing cloud-computing customers to apply language AI models for a range of use cases, such as generating marketing content or summarising service tickets. 
The company, which is reportedly considering a $10 billion (€9.2 billion) investment in OpenAI on top of the $1 billion (€925 million) stake it announced in 2019, said ChatGPT is soon going to be available within its Azure OpenAI service.
And it announced the "general availability of Azure OpenAI Service as part of Microsoft's continued commitment to democratising AI," allowing more businesses to apply for access to "the most advanced AI models in the world," including OpenAI's AI-writing tools GPT-3.5 and ChatGPT, as well as its text-to-image AI software DALL-E 2.
Public interest in OpenAI surged following its November release of ChatGPT, a text-based chatbot that can draft prose, poetry or even computer code on command. 
ChatGPT is powered by generative artificial intelligence, which conjures new content after training on vast amounts of data - tech that Microsoft is letting more customers apply to use.
Microsoft said it is vetting customers' applications to mitigate potential abuse of the software, and its filters can screen for harmful content users might input or the tech might produce.
The business potential of such software has garnered massive venture-capital investment in startups producing it, at a time when funding has otherwise dried up. 
Already, some companies have used the tech to create marketing content or demonstrate how it could negotiate a cable bill.
Microsoft said CarMax, KPMG and others were using its Azure OpenAI service. Its blog post quoted an Al Jazeera vice president as saying the service could help the news organisation summarise and translate content.