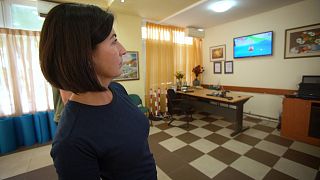 In our latest episode of Futuris, we see if apps and video games help in the treatment and early diagnosis of Parkinson's disease. In northern Greece, a patients' association has teamed up with researchers to find out.
Ermioni Zervoudaki was 49 when she was diagnosed with Parkinson's disease. She is one of the 35 patients volunteering in Thessaloniki to test different video games designed to provide better treatments. She still works as a German language teacher. Nevertheless, she says the disease has abruptly changed her life.
"I need to have more time to schedule all my routine activities. For example, when I go shopping, I know that I will need more time, so I do not go to the supermarket during rush hour, because I put my shopping into the bags very slowly and I don't want to be stressed. I take more time to get ready for my work, to get dressed or finish my make-up; for all my daily activities, I need more time. Even for cooking."
Researchers have developed 14 different scenarios to help patients regain muscle tension, improve their general fitness or even fight depression.
These serious games which are currently under clinical evaluation can be used in clinics and at home. But only after a medical prescription is issued, says social and physical educator, Sofia Balula Dias.
"We believe that if patients play at least three or four of these games for around 30 minutes per day every week, they will see an improvement in the symptoms of the disease; and the disease's evolution can be stabilized."
Neurologists are hopeful that they will eventually be able to check their patients´' progress both online and during regular consultations.
These serious games could become a useful tool for treatment according to doctors at the Greek faculty.
"These exercises, these computer programmes, can be really effective (as treatment tools) because they are very targeted, tailored-made. They can be adapted to each patient's needs" says Sevasti Bostantjopoulou, the emeritus Professor of Neurology at the Aristotle University of Thessaloniki.
Scientists at the European Union research project also want to improve the early diagnosis of Parkinson´'s with the help of a non-invasive platform used on every-day connected devices such as smart phones or watches.
"We are testing our Artificial Intelligence tools on many different users, both healthy people and Parkinson's patients. The app helps us collect meaningful data all year round, so we are able to accurately identify lasting changes in the volunteers. And this should help us to determine useful patterns that could lead to the early diagnosis of the disease," says Dimitrios Iakovakis - an electrical and computer engineer on the project.
The system aims to identify minor tremors, slowing of movements, voice degradation or some face expressions commonly related to eventual Parkinson´s disease symptoms. The I-Prognosis Project Coordinator Leontios Hadjileontiadis is feeling optimistic about the future.
"We are pretty optimistic. After three years of research and development, we have achieved an accuracy rate of about 82-85% percent in our prediction of early diagnosis. Now, of course, we need to extend our patients´ base to get even more data, and that is our target for the next years".
Resarchers say they hope their different tools will eventually help fight a disease that affects at least 10 million people worldwide.
More information can be found at I-prognosis' website.