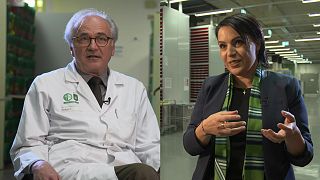 **Colon cancer is on the rise across Europe. But why is this disease so challenging to diagnose and treat? **
Our latest episode of 'Futuris' looks at how biobanks (such as the European funded 'Adopt' Project) use tens of thousands of carcinoma samples to assist clinicians and medical researchers in helping patients. Euronews sat down with Herbert Stoeger, Head of Clinical Department of Oncology at the Medical University of Graz, and Karine Sargsyan, Managing Director or Biobank Graz at the Medical University of Graz to find out more about the project.
Herbert Stoeger: "20 years ago we just treated colonic cancer as a singular entity. Nowadays we recognise that colonic cancer is not only one kind of cancer, but maybe hundreds of them. We have learned to treat the cancer patients personally and have learned that we have targets in the cancer cell that we can use in the treatment of cancer. We need a lot of information, and the better we can identify the targets, we can identify the tumors and the patients bearing the tumors so we can optimize our therapy."
Karine Sargsyan: "Colon cancer is - specifically - very diverse. You have different stages, different grades, different receptor status, different types of responses to different oncology treatments. So if you have all these different types, all the diversity doing research, you can find the exact, particular, very personalised treatment for each patient."