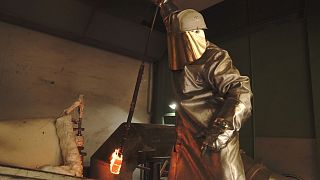 At one experimental metallurgy plant in Aachen in Germany, scientists are trying to recycle waste from primary aluminium production in a more efficient and sustainable way. The waste is mixed with carbon and then melted at extreme temperatures. Known as Red mud, the mixture can be a treasure trove of elements which can be reused in the steel industry.
Bernd Friedrich is a metal recycling expert at the IME-Institute for process metallurgy and metal recycling.
"Of course we are interested in the value of these metals inside Red mud. Firstly, there is a bit of aluminium, iron, scandium - a high technology metal - maybe titanium, and also other metals which are rare earth minerals."
Every year approximately 150 million metric tons of Red mud are produced around the world, but less than 2 percent of that is used again.
A process called 'Thermal Approach' helps to transform the Red mud into a mixture which is rich in iron.
But Friedrich says that is just the start of the challenge.
"In order to recover the iron, we must use very high temperatures, so that the metal melts. We must work with the waste in many different states, dry, hot, acid, alcaline. Our research aims to optimise techniques in order to find the right way to recycle Red mud."
But there are other, more imaginative ways to recycle this red waste.
In Leuven in Belgium, Red mud is heated at slightly lower temperatures of around 1300ºC.
Scientists from one European research project have come up with some creative solutions.
"At this lab furnace we melt the waste. Once that metal waste has melted, we cool it down in a bucket. The final product we recover is similar to glass, and it can eventually be used as a reactive substance for making construction materials, for instance," said mineralogist Tobias Hertel
At first the resulting material is closely analysed to accurately determine its internal composition.
"We can have an exact quantification of which elements are in it, and also at which concentration," explained metallurgical engineer Annelies Malflict, adding: "We can go up to really low concentrations of elements like silicon, aluminium, calcium, sodium, oxygen that are in it.''
Redmud glass is then grounded and mixed with sand and graphite to produce construction materials like bricks, light weight aggregates, or even roof or floor tiles.
Ioannis Pontikis, a chemical engineer at the Catholic University of Leuven, is the institution's redmud project coordinator.
"For us it is important that we minimise the global carbon dioxide production. And not only that. We also have an eye at the global, wider environmental footprint (of the process). These products are more green in the sense that we have been using only residues and we want to do it without compromising properties, both mechanical and physical properties.''
Researchers say they hope their efforts will increase Red mud recycling five fold in the next decade.