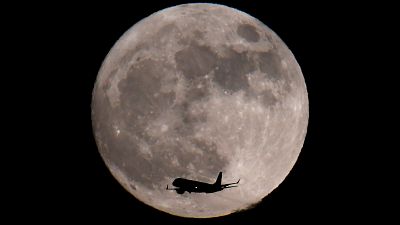 NASA is urging sky watchers to step outside on January 31st for a look at what the space agency is calling a "lunar trifecta."
It's the rare combination of a blue moon (the second full moon in a single calendar month), a supermoon (a moon that's full when it's at its closest point in its slightly elliptical orbit around Earth), and a total lunar eclipse or "blood moon", in which Earth's shadow upon the lunar surface gives it a reddish tint.
NASA said: "If you live in North America, Alaska or Hawaii, the eclipse will be visible before sunrise on January 31 and for those in the Middle East, Asia, eastern Russia, Australia and New Zealand the 'super blue blood moon' can be seen during moonrise in the morning on January 31."
Gordon Johnston, program executive and lunar blogger at NASA Headquarters in Washington said: "Weather permitting, the West Coast, Alaska and Hawaii will have a spectacular view of totality from start to finish.
Sadly this one will be more challenging to see in Europe, as the full eclipse will be happening on the dark side of the earth at 10.51am GMT. But the super blue moon will still be passing by, so it'll still be worth stepping outside with a camera.
Lunar eclipses occur up to three times a year, supermoons about once every 14 months, and blue moons about once every 2.7 years, according to Space.com. NASA says this trifecta will be the first in 35 years. The next won't come until 2037.