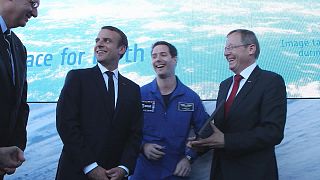 Newly-returned ESA astronaut Thomas Pesquet made his first big public appearance at the Paris International Air Show alongside French President Emmanuel Macron.
I do miss floating

ESA Astronaut
The event is a major rendez-vous for the space sector, with the heads of ESA and NASA in attendance, together with many leaders of the European space industry.
Euronews met Pesquet to discuss his mission, and began by asking him how he felt physically and emotionally during this recovery phase: "I feel great. Coming back to Earth is hard at the beginning, but after a couple of hours you start re-adapting so fast. It's amazing how the human body can adapt to living in space and then re-adapt to living on Earth."
Does he miss floating? "Yes, I do miss floating, because that's just so easy. It's like when you're in space it's similar to having superpowers. You can fly around, float around, you can move heavy loads with just a finger or two, and then when you get back to Earth you lose all your superpowers."
ISS astronauts are in space in the name of science, and Pesquet said the MARES experiment to measure muscle mass was one of his favourites, despite being 'probably one of the most painful'.
If spending six months in space can be a challenge, does Pesquet think a mission to Mars, of a duration of at least one year, would be possible?
"I think it's pretty doable," he said. "The hard part is the return, really. When I was back on Earth, with the gravity, I couldn't do anything for a couple of hours. So obviously when you get to Mars you want to be able to respond to any emergencies, so you'll need to work out quite a bit during the trip. Psychologically you have to be prepared too, because you'll completely lose the view of the Earth. On the Space Station we still fly around the Earth, so you're not too far away from home. On a Mars mission it's going to be a completely different deal, so people need to be prepared for it also in their minds."
Aiming for Mars may not be on everyone's mind at the Paris Air Show, but for those in the space sector it's the common goal. Both ESA and NASA are sending rovers there in 2020, and the head of NASA was in Europe to discuss plans for the red planet.
After signing a memorandum committing to continued joint efforts with French space agency CNES, NASA's Acting Administrator Robert Lightfoot told Euronews that sending humans as well as rovers to Mars was definitely in their game-plan.
"We need both, rovers and people. The rovers go there and they scout, they are our scouts. They tell us what we need to know when we take humans. And we think that taking humans is what we want to do from an exploration perspective, pushing human's presence into deep space is kind of written into our DNA," Lightfoot said.
"We're pushing to get humans in the vicinity of Mars in the 2030s, that would be our goal going forward. We've got a lot of work to do on the technologies and the systems that we need to build. We'll do that with our partners – that's one of the things we're here to talk to them about, if they bring their skills and capabilities to bear in that journey. We'll spend some time around the Moon, checking out systems that we need to take to go to Mars, while we're still close to home, to make sure those systems are working well," Lightfoot added.
Nearer in the future, he expects the Orion capsule from NASA to fly around the Moon in 2022, with an un-crewed mission flying in 2019.
Lightfoot also met with his ESA counterpart to discuss common projects at the Air Show. Partnerships between space agencies are essential to making big missions happen, and that inevitably means politics comes into play.
When Euronews interviewed ESA Director General Jan Wörner we asked him his thoughts on one of the biggest political questions of our time: Brexit.
"Brexit is something between the United Kingdom and the European Union. We as ESA, an intergovernmental organisation, are a little bit out of that discussion. Europe is not just the borders of the European Union, and I think the European Union needs the UK and the UK needs the European Union, so I'm looking forward to a good solution."
One of the questions to be answered if the UK heads for a 'hard' Brexit and leaves the common market and customs union, is whether British space companies can continue to operate as before in ESA projects, in particular those in partnership with the European Commission.
"I can say that in the ESA environment this is not a request. In the ESA environment. We have also Switzerland and Norway as non EU members, so we know how to deal with it," Wörner said.
Wörner is holding round-table discussions with all kinds of visitors at the Paris Air Show as he puts his vision of Space 4.0 into practice. So what do 'ordinary people' want from space, in his experience?
"If we ask citizens what they think about space really all of them are inspired. This is very clear. And they see, and this is for me very interesting, they see very clearly the advantage of space activities for their daily lives."
"They are asking us frequently for risky missions. For instance to go to other planets, like ExoMars, or to go to a comet, these are missions which people very much like. They also say the inspiration you give makes us also able to dream about something in the future, and then space has suddenly more than just a financial issue, it has a societal issue, a societal benefit," said Wörner.
Alongside the big space agencies, the space industry uses the show for key announcements. The re-branded ArianeGroup showed progress on the new Ariane 6 rocket and revealed their engineers are also working on a re-usable launcher for 2030.
Italy's Avio signed a deal for three launches of new versions of its Vega rocket, and presented a project with ESA to develop a device to dispense small satellites in space.
Thales Alenia Space was pushing its Stratobus high-altitude autonomous airship concept as a satellite supplement.