Experts from the likes of Microsoft and Audi are gathered with UN leaders and academics to debate the pros and cons of Artificial Intelligence in Geneva this week, reports Euronews' Jeremy Wilks.
Artificial Intelligence is "probably the most significant technology we will ever create," says Peter Diamandis in his opening video address to the ITU's AI for Good summit. The X Prize founder always speaks with the zeal of the finest Silicon Valley entrepreneurs, and here he is in his element. Taking up the baton on stage is Marcus Shingles, X Prize CEO, who with the tone of a motivational speaker expounds the huge unleashed potential of the smartphones in the pockets of 3.6 billion people today. Artificial Intelligence, say its proponents, can heal healthcare, make travel safe, and boost your wealth.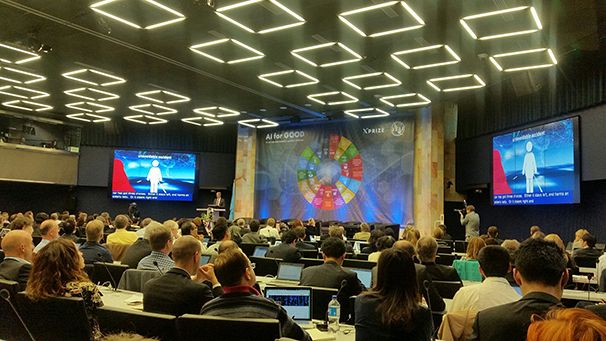 The gathering in Switzerland is to discuss harnessing AI for good. Yet there is also a stark warning that AI also has the power to harm from Izumi Nakamitsu, the UN's High Representative for Disarmament Affairs. She describes weapons already in service that are capable of selecting targets, and reports that there are no technical boundaries to machines taking decisions to take a human life. "Automation of the battlefield lowers the threshold for the use of deadly force," she says. Transparency and accountability in the use of force is what's needed to keep these tools in check, according to Nakamitsu.
In healthcare this summit has some AI-sceptics, in the form of WHO head Margaret Chan. "Medical decisions are complex, and rely on care and compassion. I doubt that a machine will ever be able to imitate genuine human compassion," she tells the audience.
Also, Chan reminds us, that in developing countries, what use is a clever system to diagnose illness if there are no doctors and nurses, no clean running water and electricity and no medical supplies?
But the AI revolution is going to happen. AUDI chairman Rupert Stadler is at the heart of one of the key sectors where change is visible already – driverless cars. "AI will make driving more efficient and comfortable, and potentially safer. 90% of all accidents are caused by human error," he says.
Stadler envisages a world where your car becomes your "chauffeur, secretary, butler, post courier, private doctor, and even your companion".
He also looks to more altruistic objectives for all that digital potential, putting forward the concept that the computing power of parked cars should be put to use to find a cure for cancer or other worldwide health challenges.
AI fans aren't lacking at this summit, with Swiss AI Lab's Scientific Director Jürgen Schmidhuber pushing our collective imaginations even further in his presentation, predicting that an "animal-like AI" will be reality within a few years, and a system with human intelligence is close. He goes on to describe how smarter-than-human machines will take over the galaxy within 10,000 years, at which point he slightly loses his audience.
A reality check comes from Peter Lee, the VP or Microsoft AI and Research. "Machine learners today are slow learners," he says. The machines still rely on us: "Machine learning is far from automatic, it needs expensive and highly trained people to turn models into high value and useful applications," he explains.
Of course, AI is already part of our lives. AI ensures speech recognition on devices from Apple, Google, Amazon and others is both possible and usable. Computers are better than ever at 'seeing' objects in front of them, and robotics is using new machine learning techniques to improve control systems and create reasoning within the machine. The cutting edge is what's known as 'unsupervised learning', where the computer manages to sort out unlabelled data and to make sense like a child.
The challenge ahead, and which the ITU's conference takes an early step in addressing, is how to harness all of this digital power for the common good, to keep it regulated and safe, respecting privacy, driving down inequality and promoting economic growth for all. It's widely believed that ICTs, with AI at their heart, can help the UN reach its Sustainable Development Goals for our planet. Yet the reality is that there are no clear roadmaps ahead for regulating Artificial Intelligence. Now, at least, there's agreement that there is a pressing need to create one.
Robots won't buy cars! We want to use #AI to secure jobs and to raise the standard of living ~Audi</a> <a href="https://twitter.com/hashtag/AIforGood?src=hash">#AIforGood</a><a href="https://twitter.com/hashtag/ICT4SDG?src=hash">#ICT4SDG</a> <a href="https://twitter.com/hashtag/SDG8?src=hash">#SDG8</a> <a href="https://t.co/S5O7MPfodq">pic.twitter.com/S5O7MPfodq</a></p>— ITU (ITU) June 7, 2017
You might also like