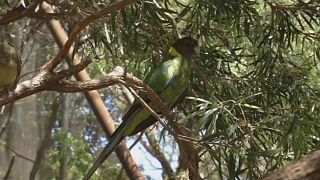 You might not be able to tell by looking at them but the Ringneck Parrot is evolving.
New research has found, the birds' wing length has increased by up to five millimetres compared to the 1970s.
Rapid growth in ringneck #parrot's wing length could be due to #climatechange, scientists say https://t.co/RRqkFlQ4aD (Pic:Yvonne McKenzie) pic.twitter.com/ly8XTjgItL

—

ABC

Perth (@abcperth) January 2, 2017
Professor Dylan Korczynsky from Notre Dame University says it could be due to climate change.
Korczynsky announced his conclusion during the Ecological Society of Australia's annual conference, recently held in Fremantle, Western Australia.
"As the climate might be increasing in temperature, the increase in wing length might actually help these birds shed that excess heat and so it better matched them with their environment," he pointed out.
The study has compared today's birds with specimens dating back to 1904. It found the biggest change took place in the last four decades.
Much of the study took place at the Western Australia museum facility, where around 50,000 specimens are stored.
"Most of the specimens that we have here are what we call study skins or research skins so they're flat, sort of puppet skins so you can compare one ringneck from Perth with a ringneck say from Kalgoorlie ( Kalgoorlie is another town in Western Australia, some 600 kms from Perth)."
According to researchers, the wing size change fits with what biologists call "Allen's rule". It states in warmer climates, appendages such as wings get larger to help shed unwanted heat. Small temperature changes can have a big impact.
"In the scheme of the impact on the environment, obviously the research like ours is showing that it can actually have a profound effect on, in this case, the ringneck parrots," said Dylan Korczynsky.
The next step, researchers said, will be to examine if the colouring in the birds' feathers which has become a brighter yellow is also a response to climate change.