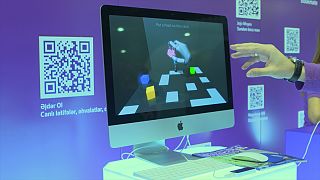 For more than 20 years Baku has hosted, the Bakutel exhibition, bringing together in Azerbaijan the leading players in the telecommunications market.
This year also marks the 135th anniversary of the first telephone line installed in the Caucasus region by the Nobel brothers, marking the birth of telecommunications in the country.
"This is the 22nd edition of our annual Bakutel Exhibition. This year more than 200 companies from 18 countries participated and we have seven national groups from different countries. This is the biggest event in this region in this field which showcases the latest technologies to visitors," said Farid Mammadov, Director Iteca Caspian.
Today the growth rate of Azerbaijan's Information and communications technology industry ranks first in the non-oil sector of the economy.
#President#Ilham#Aliyev viewed #Bakutel #2016 #exhibition#VIDEOhttps://t.co/XxQRZkc80d

— Az Embassy Iran (@AzEmbIran) December 1, 2016
"In the coming years the economy will grow not because of oil and gas and not because oil and gas prices went down but because other sectors of the economy are growing – industry, tourism, services, agriculture and of course the ICT sector. And today's exhibition, which is traditional, BakuTel, once again shows that Azerbaijan, in the region, is one of the leading countries with respect to the ICT development," Ilham Aliyev, President of Azerbaijan told euronews.
Among the new products on display includes several forays into the Virtual Reality market. One of the most popular displays was a Virtual Reality Formula One game taking place on the streets of Baku.
"This game is the Formula One Baku City Circuit game, and we made this game just on the browser with Web GL and then we converted this game to virtual reality for Oculus Rift because we believe that virtual reality games are the future of gaming," said Farid Davudov, CEO Customar.
The exhibition covered several fields – telecommunications and networks, cable and wireless communications, satellite communications and four and five G mobile technology, fibre optic and cloud computing.
"We're solving a problem that almost every single one of us has but we don't realize it. And that's the problem of slouching. So we came up with Spinal which is what the project is called and it's essentially a combination of a wearable device and an application for your phone.
'The device is going to be attached to your shoulders. And there are sensors, and on the mobile application you can track your progress see how far you've come and how many times you slouch during the day and that sort of thing," explained Fidan Rustamova, Project Manager, Spinal.
This year the exhibition brought together over 200 companies from 18 countries. They included one which has developed a security application via a high resolution camera.
"Our latest technology is a 30 mega pixel camera single sensor full frame Avigilon security camera. We manufacture it in our factory in Canada, Vancouver. We use it for safe cities, for stadiums, for large squares. All these cameras can be connected to our video management system, ACC and it uses low bandwidth but gives you high resolution of data to the customer," said Agshin Suleymanov, Sales Manager Avigilon.
For four days young specialists and new startups have had opportunities to meet potential investors in discussing new inventions, programs and services.
Conference on "Internet of Things. The next generation" kicks off within BakuTel 2016 https://t.co/S9Fnvi9qgL

— MilliGram (@MilliGramSmart) November 30, 2016