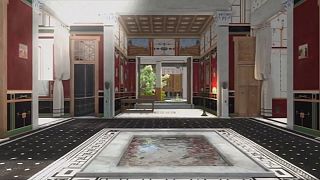 To this day, Pompeii's famous ruins are a source of wonder and mystery to countless visitors.
However, it can be difficult to visualise how the ancient buildings appeared before the devastating volcanic eruption in 79 AD.
Therefore researchers at Sweden's Lund University have digitally reconstructed an ancient Pompeii home, destroyed by the eruption of Mount Vesuvius.
Researchers reconstruct ancient Pompeii house with #3D technology https://t.co/mKRiaj6kP2pic.twitter.com/WjyoditYPy

— Rod Sweet (@RodSweet1) October 18, 2016
Experts combined traditional archaeological techniques with state-of-the-art laser-scanning to create a detailed 3D model of an opulent Pompeii house.
#3d#cg#art Researchers reconstruct house in ancient Pompeii using CG
Researchers at Lund U https://t.co/1euJDsssE5pic.twitter.com/5blECIzWn4

— 3D-Fonts (@3DFONTS) October 18, 2016
Anne-Marie Leander Touati is a professor of classical archeology at Lund university:"We started off with doing digital photographs with all walls in this house, a very big work, and then in the recent years, we started laser scanning. Laser scanning is much quicker work, but it doesn't give us the colours of the walls, so we have combined the two things."
By combining both age-old and state-of-the-art techniques, experts digitally reconstructed this large house, belonging to wealthy owner and former slave, Luicius Caecilius Lucundus.
He is well known among archaeologists as his business archives, found scratched into wax tablets in the 1870s, have been well studied.
Leander Touati says it's also interesting how the home demonstrates social mobility in Pompeii, surveys show it was later expanded into the building next door:
"It's an expanding house. It started off as one house and then it annexes the neighbour's house. So it's a nice thing to show the development of a house going more into an opulent state of life, so to say."
The Swedish Pompeii Project first began fieldwork in the ancient Roman city in 2000, following calls from Pompeii's curator to help document it before further deterioration.
First scans were made in 2011-12 and it's just now that these 3D models of the ruined city have been completed.
This 3D model shows how the home's atrium may have looked sometime around the eruption in 79 AD. The house was around 200-years-old at the time.
When there was no direct evidence from pictures, paintings or even written accounts directly after the ruins were unearthed, they looked at evidence from other Roman homes.
Lund University digital archaeologist, Nicolo Dell´Unto says 3D models like this are "crucial", as they allow experts to take the environment home with them and continue to test various assumption and interpretations:"As archaeologists we work in 3D. So when we are in the field, when we excavate, when we look at the monument, we are actually embodied in the monument itself, for real. So we think in 3D. And the possibility of bringing back this environment to keep going on with our interpretation is crucial."
Around 2.5 million people visit Pompeii ruins every year, according to UNESCO. Researchers have recently raised alarms that the ever increasing number of visitors are a detriment to the site.