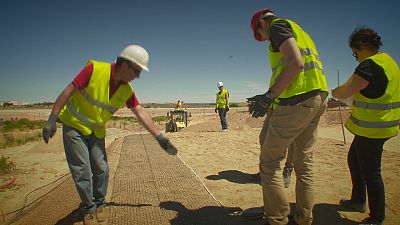 When driving on a road embankment, we hope that it won't collapse under the wheels of our vehicle, but how certain can we really be?
The changing climate may cause landslides and sinkholes to appear more often.
This edition of Futuris looks at how optical fibre sensors could help monitor the stability of roads, buildings, bridges and other constructions – and save lives.
A fibre optic future?
In Spain, engineers from a European research project called MULTITEXCO are testing an innovative method of accident prevention.
An embankment has been specially made of compacted soil for the experiment.
A special textile mesh is placed at several levels inside the structure.
"In general, this type of device has two functions: first, it can reinforce the construction, and second it can help to keep track of the deformations sustained by the structure," explained Paolo Corvaglia, a materials engineer with D'Appolonia.
"In this specific experiment, we are measuring the deformations within the earthworks thanks to this fibre optical sensor, which is embedded within the textile mesh structure."
It's basically the same fibre-optic technology as what's widely used in telecommunications, but in this case the thin cables are used as sensors.
To test how they work, the engineers flood the experimental embankment with water.
The structure deforms on the inside, putting pressure on the buried mesh.
The strain is transferred to the integrated sensors that can be read with special equipment.
We can place fibre optic sensors inside an embankment and read them periodically to find weak spots #Futurispic.twitter.com/5uTWA4Iijn

— Denis Loctier (@loctier) July 29, 2016
"The fibre optic sensor works like this: we send a beam of light through it, and analyse the reflected signal which tells us about the variations of the wavelength," said Angela Coricciati, a materials engineer and D'Appolonia consultant.
"That makes it possible to determine the deformations of the sensor at every individual point along its length."
Cool fact: fibre optic reflects light back; it can be read, making it a good temperature/pressure sensor #Futurispic.twitter.com/vFGhNEWqqc

— Denis Loctier (@loctier) July 29, 2016
The benefits
The researchers see many advantages of fibre optics compared to other sensors.
The fibres both collect and transmit data, simplifying the design.
They are also relatively inexpensive to use and immune to electromagnetic interference – that can be crucial in construction applications.
In addition, they are safe around explosives and flammable materials, as there's no electric current inside.
"These sensors are very stable, they don't require regular continuous re-calibration, and they sustain aggressive environments like geo-technical objects very well. And that makes long-term monitoring possible," commented Corvaglia.
The idea is to embed smart textiles, with integrated fibre-optic sensors, into new elements of road infrastructure that may face floods, landslides and other integrity risks.
The thinking is that it will bring out hidden strains or decay in good time to prevent possible collapses.
"There are more potential uses of this technology – it's not just for road building. The construction industry can use it to monitor stability of buildings after earthquakes, for example," explained Aldo Tempesti, MULTITEXCO project co-ordinator.
"Or it can be useful in tensile architecture to anticipate eventual accidents, measuring the vibrations and strains that may occur within such structures."
#MULTITEXCO demo activities shooted by Euronews #Acciona#DAppolonia#geotextiles#AlpeAdriaTextilTexClubTec</a> <a href="https://t.co/q8kIADfShm">pic.twitter.com/q8kIADfShm</a></p>&mdash; MULTITEXCO Project (MULTITEXCO_FP7) July 16, 2016