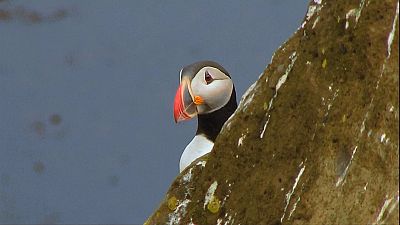 Puffin snorkeling is the latest craze to hit Grimsey with tourists flocking to the Icelandic Island in the arctic circle to give it a go.
Iceland tourists catch puffin snorkeling :)https://t.co/gqV9npcMjw#Iceland#Grimsey#puffin#snorkeling#ITpic.twitter.com/fwkKiKbkxl

— Iceland Travel (@IcelandTravelTO) July 25, 2016
Curious puffins up close
For the first time a company is offering snorkeling trips, so instead of observing the endangered birds from afar, tourists can actually swim with them. Though not very agile flyers, puffins can dive to depths of up to 60 metres in search of fish.
Halla Ingolfsdottir, owner of Tour Operator – Arctic Trip – had this to say of her new venture:
"Yes, I have taken this to a new level. Instead of just watching them [the puffins] and taking photographs we go and play with them. They're so much fun to observe. It is amazing experience to see them swim and splash in the water."
The company say that they respect the environment, the wildlife and the tender and fragile nature of Iceland. Preservation and respect for nature are key parts of the Arctic Trip manifesto.
>crygreen2</a> The Atlantic Puffin is on IUCN Red List of Threatened Species. <a href="https://twitter.com/GordonRamsay">GordonRamsay shouldn't be killing them. pic.twitter.com/tWYv0nZaaI

— Quad Finn (@Quad_Finn) August 19, 2016
During the breeding season the puffins' multi-coloured bills and matching orange feet become even more striking. When on land they chatter incessantly but at sea they remain silent. Now tourists can watch this cartoonishly-cute bird underwater.
Halla Ingolfsdottir described the experience of coming into such close contact with the marine birds:
"They appear as soon as we are in the water and everybody has calmed down. Puffins are rather curious so they come to check us out. And then there are other seabirds that are just as exciting to see. To float around and see the puffins above you, next to you and swimming below you is amazing."
A baby puffin is called a puffling. pic.twitter.com/jK23HS9r0r

— Cute Baby Animals (@CuteBabyAnimals) August 15, 2016
Atlantic puffins spend most of their lives at sea, but return to land to form breeding colonies from early-April until September. Iceland is home to the largest of these colonies with around 60 percent of the world's Atlantic puffins.