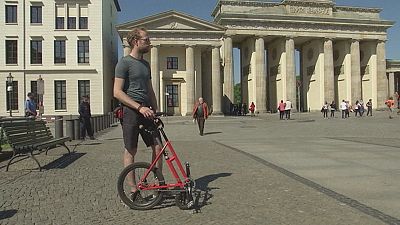 In a busy city or when taking public transport, an ordinary bike can take up quite a bit of space.
So Berlin-based inventor Felix Kruschardt has come up with the Halbrad, or "half-bike". The name says it all. It is essentially a bike which looks like it's been split down the middle. Equipped with a large rear wheel and a small front wheel, it can be picked up and carried like a folding bike.
Featuring a two-speed drivetrain and a coaster brake, it is just under a metre high and weighs 9 kilos.
"It is very practical because it is very compact, you don't need to fold it. It's easy to just pick up and carry into the subway, at no extra cost. Also, it doesn't take up much space in your apartment – and all of this without needing to fold it," explains Kruschardt. "It is very easy to use. You just put your foot on the pedal and off you go," he adds.
The handle bar is placed behind the user, which can take a bit of getting used to. But Kruschardt says it's just a question of minutes. Today, he's showing off his invention to tourists at the Brandenburg Gate. David from Argentina is seduced.
"It is fast, practical and fun. The only thing I don't like is that the handlebar is at the back, but it's fun." he says.
This is the second prototype. The first was made out of wood. Kruschardt hopes to start building his first 20 bikes for sale later this year. First, however, he might have to consider ensuring it is street legal: under German law, bikes must have two independent brakes – and the Halbrad has just one.