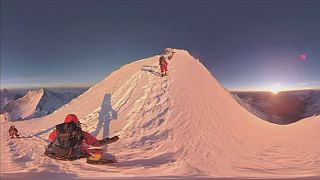 Mount Everest's Southern climbing route up to the 'Roof of the World' has been documented in 360°.
The result: spectacular panoramic video and photography.
SEEVIDEO! MAMMUT'S #PROJECT360CONQUERSMOUNTEVEREST… https://t.co/PWIZY4nOumpic.twitter.com/l9eLKPMkSV

— Particle Photography (@ParticlePhoto_) June 4, 2016
Michael Gyssler is from the Mammut Sports Group: "We started the project in 2014 with the iconic climb of the Eiger north face and Matterhorn, and since then we added many new routes, some with athletes, others with our own employees."
The first Hungarian to climb Mount Everest via Northside Route https://t.co/nBJ9nyGifK#Everest#Mountain#Hungarianpic.twitter.com/G0upW76dUu

— We! Magazine (@WEmag_UK) May 25, 2016
The company, which produces mountaineering and trekking equipment is bringing omnidirectional views of Everest to millions of people around the world with unique three-dimensional recordings.
A team of Sherpas and photographers took part in the project.
Today, 29 May … 63 years ago … Sir Edmund Hilary and Sherpa Tenzing Norgay conquered Mount Everest#historypic.twitter.com/XgdVFcb1SF

— Ave Maria Behrendt (@Sherabphagmo) May 29, 2016
Robert Boesch is a photographer: "If you're up there and everything goes well, the weather is good, no wind everything is OK, so everything goes OK. But if something goes wrong, catastrophe is very close, always. If you work there as a cameraman, if everything goes good with your equipment, that's OK, but if you have a problem, you have one big problem and you have to find a solution, and if the weather is not good, it's cold, it could be very dangerous to do anything with the camera. So you have always a bigger risk if you are there at the same time as an climber and cameraman."
The project required intensive planning Lakpa Sherpa is a professional mountain guide:"Yeah Everest is dangerous, but we have to prepare very well because the danger is there and also sometime danger from outside. So we have to think and we have to prepare very well. And sometimes there's many crevasses, Base Camp to Camp II, and many blocks, ice falls, and sometimes it can be collapse and sometimes avalanche or rock fall and also high altitude."
The virtual climber can choose different perspectives and experience the challenging climbing passages through high quality photos and videos.