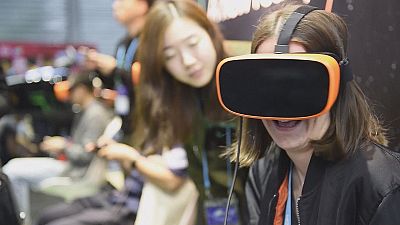 At the inaugural CES Asia the focus was on three major themes: connectivity, innovation and the Internet of Things.
But despite the themes, it was virtual and augmented reality products that were turning heads at the show.
From headsets combining virtual reality with flight simulator games, to products with 4K display that literally turn people upside, such as at the Pimax booth, it's clear to some that content is king.
Chinese VR firm Pico used its stand at CES Asia to showcase virtual reality headsets that were combined with flight simulator games.
Zu Kunlun, Vice President of Marketing at Pico, says: "To make the VR become more popular, it requires content. But what we can tell is the biggest platforms and big names are investing into this area, and they already announced a very aggressive strategy."
Augmented reality has been another top trend at the show. Chinese firm Shadow Creator is poised to launch its augmented reality glasses.
Its CEO believes the many applications of augmented reality will allow it to take over the tech market and replace current devices.
Sun Li, CEO of Shadow Creator, says: "Augmented reality is more capable [than virtual reality] of letting people experience the world. It can be used in many industries, like education, maintenance, logistics and medicine. There are so many possible applications, many more than with virtual reality."
But tech experts think consumers still need to be convinced by the technology and its applications.
According to Jason Low, Tech Industry Analyst at Canalys: "There are a number of challenges, especially, for example VR [virtual reality], they are focusing on the consumer market, which is basically games and videos.
If you talk about AR [augmented reality], there isn't much use case for the normal consumer. [A] typical consumer wouldn't find a need for glass with a camera on."
For businesses the event is mainly to reinforce their brand while showcasing the latest products and technologies to consumer technology industry executives, international buyers, media and a limited number of consumers from China.
China is a hotbed of innovation and CES Asia reflects the changing landscape of consumer tech. Experts believe where they lead, the rest will follow.