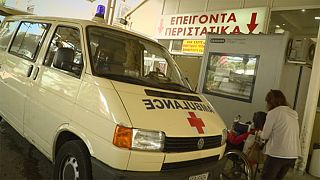 Greece is facing crippling debts, high unemployment and a daily influx of migrants. All of which impacts the healthcare sector. This edition of Smart Care is giving the country's current services a health check.
Medical care is a right that we, as a modern well-governed state, should provide equally to everyone, regardless of their insurance, working or income status
Low on staff and resources
At Athens' Yenimata Hospital, we met up with pathologist Dr Matina Pagoni, and patient group activist Christos Daramilas.
"Things in Greece are a bit difficult. There's a big lack of nursing and medical staff," said Pagoni.
"So there should be new recruitment and there will have to be funding directed to hospitals, so that we can have medical materials, because up until now we have been on the limit with that."
Daramilas, who is President of the Greek Association of People with Diabetes, added: "Lack of time is a huge problem and that leads to people with chronic diseases not having their usual regular appointments during an appropriate time frame, but up to nine and 10 months late."
I met up with the Greek Health Minister for this month's episode of Smart Care, on euronews</a> euronews next Wednesday <a href="https://t.co/jci0JjZnpb">pic.twitter.com/jci0JjZnpb</a></p>&mdash; Jeremy Wilks (WilksJeremy) April 5, 2016
Free healthcare for jobless
The government has also been dealing with yet another problem. It just passed a law giving free public healthcare to the 24 percent of Greeks registered unemployed and without health insurance.
Critics say the change could encourage black market employment, but the Health Minister told us it's a matter of principle.
"Medical care is a right that we, as a modern well-governed state, should provide equally to everyone, regardless of their insurance, working or income status," said Andreas Ksanthos.
"So, in that sense, and we very much insist on that, I believe that with this legislation we will not empower black market labor and tax contribution evasion."
But with many more people now covered, can Greece afford this?
Ksanthos commented: "We believe that we fulfil the financial conditions to slowly stabilise the functioning of the healthcare system, to upgrade its services, and to cope with the extra expenditures that will arise after this legislation."
But do the government reforms go far enough? Or are they just working around the edges of a system that needs much more fundamental reform?
One health analyst, Professor Kyriakos Souliotis, told us that he thinks Greece should stop taking employer-employee contributions towards healthcare, altogether.
"We know that we need a massive change to the system but it seems like they try to manage every day the reality of the system," said Kyriakos Souliotis, Professor of Health Policy at the University of Peloponnese.
"I think that we should switch to a system based on (general) taxation, like for example in the UK or in Scandinavian countries because this way we 'buy' certainty for universal coverage."
Pressure for more investment
Back at the hospital, the message from those who rely on Greek healthcare every day, is that whatever the funding system, more investment is needed.
"What the government should do in our country is to be able to support hospitals, to give the necessary financial support, it's always about the money," said Daramilas.
"The lack of specialised medical and nursing staff is what will lead the whole system and especially our country's hospitals to sink (collapse)."
It is estimated that a systemic reform of Greek healthcare would take five years to implement, and cost six percent of GDP.
Good morning from Athens! Here to film a Smart Care feature on reforming Greek healthcare euronewsknwldge</a> <a href="https://t.co/8E663F8bVs">pic.twitter.com/8E663F8bVs</a></p>&mdash; Jeremy Wilks (WilksJeremy) April 4, 2016