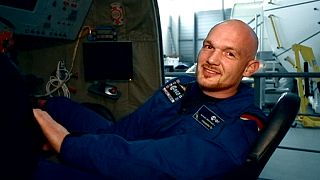 The last leg of the return to Earth from space is one of the trickiest and potentially most dangerous moments in the astronaut's journey.
ESA mission veteran Alexander Gerst talked Euronews through the experience of hurtling towards the the planet's surface inside a cramped Soyuz capsule: "In order to get into the atmosphere safely you have to separate your spacecraft in three different parts, because only one of these parts has a landing heat shield. So you have explosive bolts that violently rip your spacecraft apart."
When you start hitting the atmosphere you actually see the other parts burning up, and you not only see that, but you can see yourself burning up, you can see little parts of your own spaceship disintegrating and melting up
Astronauts are selected, in part, on their ability to cope with pressure situations. But even their fabled coolheadedness is tested to the limit during re-entry
"When you start hitting the atmosphere you actually see the other parts burning up, and you not only see that, but you can see yourself burning up, you can see little parts of your own spaceship disintegrating and melting up, said Gerst in a manner which suggested it was all part of a day's work.
And re-entry isn't just mentally tough, the body also gets a rough ride: "You're really pushed in hard, it's hard to breathe, and your tongue wants to get pushed back in your throat, its really a tough time."
The final challenge is to brace for a very bumping landing, said Gerst: "When you're under the parachute you have about 10 minutes to prepare for what comes next, and that is the landing, which is pretty rough, it feels like a little car accident. It really feels like a roller coaster ride, like the best one of your life if you can imagine that."
No wonder the crew also seems so relieved to be hauled out of the battered capsule.
Alexander Gerst
Famous for his timelapse videos taken during his spare time on the
ISS
, Alexander Gerst is Germany's most high profile astronaut, having spent 6-months on the
ISS
from May 2014. Alex is from Künzelsau in Germany, and is keen on fencing, swimming and running. He studied at the University of Karlsruhe before developing new volcano monitoring techniques for his Master's Degree from Victoria University of Wellington in New Zealand.